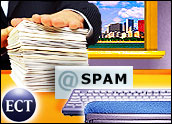 BobVila.com has long been recognized as a magnet for homeowners starting home improvement projects, but it also may become a milestone for attorneys searching for ways to crank up their cash flow.
Last Friday, the first lawsuit filed under the federal CAN-SPAM law targeted the home-improvement Web post, owned by Boston-based BVWebTies and marketed by BlueStream Media of Sacramento, California. It's a lawsuit that could be a blasting cap that ignites litigation under the new law that took effect in January.
"There's going to be quite a bit of litigation in this area, both from the Federal Trade Commission enforcing the act and, in cases like this, where you have small ISPs taking shots at people," Jeffrey D. Neuburger, an attorney with Brown Raysman in New York City, told TechNewsWorld.
Making a Few Bucks
Large ISPs like America Online and Microsoft will be filing CAN-SPAM lawsuits, too, Neuberger noted, but not as many as smaller service providers.
"That will be the consequences of a law that was rushed through Congress pretty quickly without much thought," he said. "I think you'll see a lot of these little suits where the plaintiffs' lawyers are trying to make a few dollars while the big spammers, located offshore or whatever, are still going to continue to clog our mailboxes."
He added that this lawsuit is the "tip of the iceberg" in terms of the kinds of cases small ISPs are going to be bringing. "If someone makes an innocent mistake, it's possible that this type of plaintiff is going to be jumping on those mistakes," he said.
Fraudulent Headers
In its lawsuit, Foster City, California-based ISP Hypertouch alleges BVBWebTies and BlueStream violated the CAN-SPAM law by sending the ISP's customers unwanted and unsolicited electronic mail advertisements for Bob Vila's "Home Again Newsletter."
It maintains that BlueStream sent spam with fraudulent headers and no legally required physical address. It also alleges BlueStream sent e-mail to randomly generated and harvested addresses, even to addresses that had been submitted to the "opted-out" links of other spam.
"The CAN-SPAM Act provides only the most minimal protections to the public," Hypertouch president and founder Joe Wagner said in a statement. "But BobVila.com and BlueStream Media failed to observe even those."
Triple Damages
"Our goal is to have major companies, or small companies that are legitimate, not engage in spam that violates the new federal law," John L. Falla, the attorney representing Hypertouch in the case, told TechNewsWorld.
He explained that penalties for violating CAN-SPAM are fines ranging from US$25 to $100 per e-mail and triple the amount of any damages incurred by a plaintiff.
BVBWebTies declined to be interviewed by TechNewsWorld about the case, but in a statement released to the press, it said:
"BVWebTies LLC, owner of BobVila.com, takes the issue of junk e-mail seriously and believes it has operated in full compliance with the CAN-SPAM Act of 2003. We remain committed to respecting and serving our customers. We were shocked by this action, and believe that BVWebTies will show that it operated in good faith and in full compliance with existing law."
"We will adamantly defend ourselves," BlueStream spokesperson Chris Bryan told TechNewsWorld.
Accusations a Surprise
"The accusations came to BlueStream Media as a surprise since the company has been fully compliant with the new federal law the day it went into effect on January 1st, 2004," BlueStream said in a statement.
"Every marketing message that has left BlueStream Media mail servers since Jan 1st, 2004 has a working remove link, a link back to BlueStream Media's corporate website, a valid physical address and a corporate telephone number."
The company said it has never attempted to hide or break the law by campaigning via falsified headers to pitch fraudulent products or services.
It added, "BlueStream Media plans to be fully cooperative with the court and prove its innocence by demonstrating the legal and ethical methods in which it delivers its marketing messages."