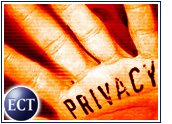 The entertainment industry and civil liberties advocates have their dirks leveled at each other's throats again — this time over a proposed California law aimed at protecting anonymous free speech on the Internet.
While proponents of the legislation say it's needed to protect employees exercising their First Amendment rights from employer retribution, opponents see the measure as a subtle subterfuge for hampering their efforts to stamp out digital piracy.
The proposed law, Assembly Bill 1143 filed by Assembly Member Joe Simitian (D-Palo Alto), would require ISPs to notify a subscriber when someone attempts to obtain personal information about that subscriber through a subpoena issued by a state court.
Best Practices
Under current law, ISPs are under no obligation to alert subscribers about such subpoenas, although many do so as a matter of policy, according to Deirdre Mulligan, director of the Samuelson Law, Technology & Public Policy Clinic in Berkeley, California.
"What the bill does is codify many of the best practices that have been adopted by many of the ISPs to give notice," she told TechNewsWorld.
That benign view of the proposed law contrasts mightily with a major detractor of it — the Motion Picture Association of America (MPAA).
Outrageous Measure
"This is an outrageous attempt to change jurisprudence in California by burdening the subpoena process when you're attempting to identify an individual, as in our case, who would be stealing movies," senior vice president for state legislative affairs Vans Stevenson told TechNewsWorld.
"We don't think it's necessary to alter the time-honored subpoena process in California with this egregious attempt to prevent the identification of people who are stealing movies on the Internet," he declared.
So far, the entertainment industry has used a federal law — the Digital Millennium Copyright Act (DMCA) — to prosecute online pirates. "This proposed statute would have absolutely no effect on those cases," Mulligan asserted.
To make that crystal clear, she added, there's language in the legislation specifically exempting from its provisions subpoenas issued under the DMCA.
Stevenson, however, argues that there are state laws by which his industry might seek to hunt down digital thieves and the proposed statute could burden those efforts. "We want to keep all our options open, and we think it is ridiculous to shield people who are stealing intellectual property."
Protecting First Amendment rights, not online poachers, is the purpose of the bill, according to its supporters. Among those rights is the right to speak anonymously.
Protecting Anonymity
"That's been a right since the country was founded," Cindy Cohn, legal director of the Electronic Frontier Foundation in San Francisco told TechNewsWorld. "The Federalist Papers were written under a pseudonym. The idea is that if you want people to speak freely about issues of public concern you need to give them the option of not having their name revealed," she said.
If employees, under the cover of anonymity, want to go on the Internet and complain about their worthless stock options, they should be able to do that without fear that their employer will fire them, she contended.
"While you have a theoretical right to state your opinion, as a practical matter, people are intimidated," she observed.
Proponents point out that the proposed law isn't intended to protect illegal behavior such as defamation.
"All the bill does is make sure that if someone is trying to get your identity from your ISP, you get notice and have the opportunity to respond and try to protect yourself before your name and address is handed over to someone who is mad at you," Cohn explained.
National Model
The measure gives ISPs 14 days to notify subscribers that their personal information has been subpoenaed and subscribers 20 days to respond to that notification.
The legislation also requires that whoever initiates a request for personal information picks up the tab for the ISP's compliance with the notification requirements.
"If this bill passes," Braden Cox, technology counsel, for the Competitive Enterprise Institute in Washington, D.C., told TechNewsWorld, "this will be a model for other states."