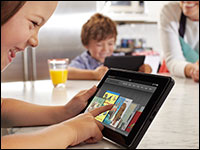 Although teens and tweens have more choices than ever when it comes to media activities, watching television and listening to music are their top preferences, according to a report Common Sense Media released this week.
Among tweens, ages 8 to 12, watching TV was the top media activity, with nearly 62 percent saying they did it every day. For teens, ages 13 to 18, listening to music was the top media activity, with 66 percent of them saying they listend to music every day.
The teenagers surveyed spent an average of nearly nine hours a day with entertainment media. Tweens averaged a little more than half that (5:55) on a daily basis. That included watching TV, movies and online videos; playing video, computer and mobile games; using social media; reading; and listening to music.
Less Time With Social
Screen time also varied between the teens and tweens. About a third of the study's teen participants (31 percent) spent four to eight hours with screen media. Another 26 percent spent more than eight hours glued to a screen.
By contrast, 27 percent of tweens spent four to eight hours before a screen, and 11 percent reported spending more than eight hours.
While social media has become ingrained in the life of teens — the survey participants spent an average of one hour and 11 minutes on it — it seems they spend less time with it than they do with other activities.
Forty-five percent of teens used social media every day, which is less than those listening to music (66 percent) or watching TV (58 percent) every day, according to the report.
Moreover, only 36 percent of teens said they liked social media a lot, compared with 73 percent who felt that way about music, and 45 percent who liked TV a lot.
No Social Reprise
By its nature, social media doesn't consume time like other media forms, noted Jan Dawson, chief analyst withJackdaw Research.
"Once you've consumed social media for the day, you don't keep going back, because there's not that much that's new. With TV and music, you can always find something new to watch on Netflix or television, and you can listen to new music every minute for the rest of your life," he told TechNewsWorld.
"Social networking can provide a certain amount of content and connection with friends, but it's not the kind of thing you can spend hours consuming the way you can TV or music," Dawson continued.
"That's why Facebook is developing avideos tab and doing more with instant articles," he explained. "They want to recommend stuff to you that your friends haven't shared because that's the only way to increase time spent on the service."
Digital Gap
There's a growing equality gap in the ownership of computers, tablets and smartphones, the researchers found.
Only 54 percent of households with incomes of less than US$35,000 a year had a laptop, for example, compared with 92 percent in households with incomes of $100,000 or more.
The same is true for smartphone ownership. Only 51 percent of teens in low-income households owned a smartphone, compared with 78 percent in higher-income households.
The divide between kids who can afford smartphones and those who can't is a growing concern among educators.
"I've heard educators in low-income communities talking about it," said Alan Simpson, director of policy and communications at theInternet Keep Safe Coalition.
"Most of their students have phones, but a lot of their students don't have smartphones," he told TechNewsWorld.
"That matters if they want to introduce one-to-one blended learning and bring-your-own-device approaches, which are a great way to make sure every student in the classroom can access the online learning tools you want to use," Simpson continued. "If half the students have phones that don't go online, then they're not getting the access that the other kids are getting."
Benign Multitasking
Teens also have a benign view of how multitasking affects their homework.
Half or more of the teen survey participants often or sometimes watched TV (51 percent), used social media (50 percent), engaged in texting (60 percent) or listened to music (76 percent) while doing their homework, they told researchers.
Many teens didn't feel those activities affected their homework for better or worse. Nearly two-thirds said watching TV (63 percent) or texting (64 percent) had no impact on their homework.
They expressed similar feelings about social media (55 percent) and listening to music (44 percent). In fact, half of teens polled thought listening to music helped more than hurt their homework.
Task Switching
Students may be deluding themselves, though, if they think media activity doesn't affect their homework.
"Multitasking" inaccurately describes what humans do when they juggle tasks, according to Timothy A. Pychyl, director of theProcrastination Research Group at Carleton University.
"We don't multitask; we task switch, and it interrupts our learning process," he told TechNewsWorld.
"Homework that was very simple probably wouldn't be affected, but anything that requires higher-order thinking skills, like synthesis or analysis, will suffer," Pychyl said.
"You can multitask when tasks are very simple or at least partly automatic for you," he added. "As soon as your brain has to do novel things that involve much more processing and sustained attention, multitasking will undermine performance."
Gender Differences
There are stark differences in media preferences between the sexes, according to Common Sense. Teen girls liked listening to music (37 percent) more than boys (22 percent), as well as reading (14 to 5 percent) and participating in social media (14 to 5 percent).
For video games, though, boys overwhelmingly cited them as a favorite media pastime (27 percent) more often than girls (2 percent). Teen boys spent an average of 56 minutes a day playing video games compared with seven minutes for girls, the researchers found.
As many media providers are acutely aware, today's youth are getting a daily dose of content through mobile screens, which is borne out by the Common Sense report. Forty-one percent of all screen time for tweens took place on a mobile device. For teens, it was 46 percent.
Parents appeared to be more concerned with the content their kids were interacting with than the amount of time they spent before screens, the researchers found.
More than half of teens (53 percent) and 72 percent of tweens said their parents had talked to them about how much time they spent in front of a screen. However, 66 percent of teens and 84 percent of tweens said their parents had spoken to them about the content of the media that they used.