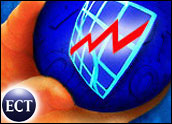 A new report indicates that worldwide mobile phone shipments grew 19 percent year-to-year in the fourth quarter of 2005, reaching a record 810 million units for the year. What is more, this sales boom happened despite "moderate" industry-wide component shortages.
Fourth-quarter volume reached an "impressive" 245 million units, according to the "Fourth Quarter 2005 Global Handset Market Share Update" report published by the Boston-based consultancy, Strategy Analytics.
Emerging Market
"Two thousand and five was the year of the emerging market. Booming demand in the Southern Hemisphere, in regions such as India and Africa, drove global mobile phone sales 19 percent higher year-over-year," said Neil Mawston, associate director of wireless strategies services at Strategy Analytics. "Emerging markets accounted for one half of total worldwide sales in 2005."
Other findings from the survey indicated that:
Motorola achieved a robust 18 percent global market share during the fourth quarter of 2005, with almost one in three of its total sales being the Razr V3 model.
At 18 percent, the combined global share of Korea's Samsung (11 percent) and LG (7 percent) during Q4 2005 fell to its lowest point in 2 years.
Sony Ericsson joined the 50-million-units-per-annum club, following its Korean rival LG into this exclusive club of five.
Component Shortages
Fears of a parts shortage for 2005 turned out to be unfounded. "Concerns about moderate component shortages at Nokia,