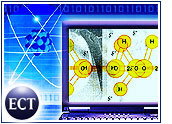 Francis Crick, who helped discover the double helix shape of DNA along with James Watson, has died at the age of 88, his family said on Thursday.
Crick died at Thornton Hospital in San Diego where he had been battling colon cancer.
British-born Crick won the Nobel Prize for his work on DNA's structure, which he studied in 1953 along with Watson at Cambridge University.
Watson issued a statement from his office in Cold Spring Harbor Laboratory in New York.
"I will always remember Francis for his extraordinarily focused intelligence and for the many ways he showed me kindness and developed my self-confidence," Watson said.
"He treated me as though I were a member of his family. Being with him for two years in a small room in Cambridge was truly a privilege. I always looked forward to being with him and speaking to him, up until the moment of his death. He will be sorely missed."
Crick was born in Northampton in Britain but had been living in La Jolla, California. He was a distinguished research professor and former president of the Salk Institute in San Diego.
"Francis Crick will be remembered as one of the most brilliant and influential scientists of all time," said Richard Murphy, the Salk Institute's president and chief executive officer.