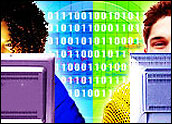 Skype Technologies today launched the beta version of Skype for Mac OS X. The software can be downloaded for free and is available immediately.
"We celebrated Skype's first anniversary on Sunday (August 29) with more than 9 million users from every country in the world," said Niklas Zennstrom, Skype CEO and cofounder.
"Today we invite the millions of Mac users to connect with people with other operating systems and gain the benefits of 21st century voice communication."
As with all Skype software versions — Skype for Windows, Skype for Pocket PC and Skype for Linux — Skype for Mac OS X is free. Skype users can control their online presence and contact lists, and have many options to customize their overall Skype experience.
Skype for Mac OS X beta includes the new SkypeOut service, offering global calling to any traditional telephone number at local rates.
The service allows Skype users to prepay and use their computing device and Internet connection to call landlines and mobile phones anywhere in the world.