The North American International Auto Show, held in Detroit, last week held a preview for industry insiders and the media before opening its doors to the public on the weekend. Automakers from around the world showcased more than 500 cars, ranging from futuristic concepts to vehicles that soon will be hitting the roads.
The show allowed automakers to tout the latest technological advances under the hood and on the dash. The first true auto show of the calendar year, it is arguably the biggest event for the American auto industry, which is still headquartered in the Motor City area. However, this year there was no arguing that some of the latest automotive infotainment and driver-aid innovations were introduced the previous week at the International CES in Las Vegas.
NAIAS "wasn't actually light on new technology, but many of the new innovations were announced last week at CES, and a lot of what was shown at CES didn't even make it to Detroit," said Natsuki Schwartz, analyst with the IHS Automotive Technology Group.
"As far as this year's Detroit Auto Show went, it was very much on the performance and concept vehicles," she told TechNewsWorld.
"Mercedes introduced its concept vehicle, Luxury in Motion, which was on center stage at their booth," added Schwartz. "This car showed off the possibilities of autonomous driving, and how it could avoid collisions — but it won't be on the roads anytime soon."
Infotainment Advancements
CES may have stolen some of the new infotainment thunder, but the automakers did highlight a few new features in this growing category at the Detroit show.
"The main theme on the infotainment side of things was smartphone integration," said Schwartz.
"Honda showed how its navigation system can be integrated with an iPhone," she added. "It allows the driver to use many of the handsets features on a screen in the dash."
This doesn't mean drivers can surf the Web or read email while cruising down the road, Schwartz emphasized. "You can't use apps that might cause distraction for the driver, but music and navigation apps can be controlled via the car's infotainment screen."
Fuel Up
While auto infotainment technology made a splash at CES, the technology under the hood was in the spotlight in Detroit.
At this year's show, it all started with started with the powertrain, said Vishwas Shankar, industry analyst for the automotive sector at Frost & Sullivan.
"The Asian OEMs, including Honda, Toyota and Hyundai, seemed mightily interested in fuel cell vehicles — well demonstrated by how their concepts would work — [but] it is still a 'wait and watch' approach for the market," he told TechNewsWorld.
"Only Toyota seems to be looking at commercializing its Mirai and have announced strong interests to grow in this exciting market," Shankar added.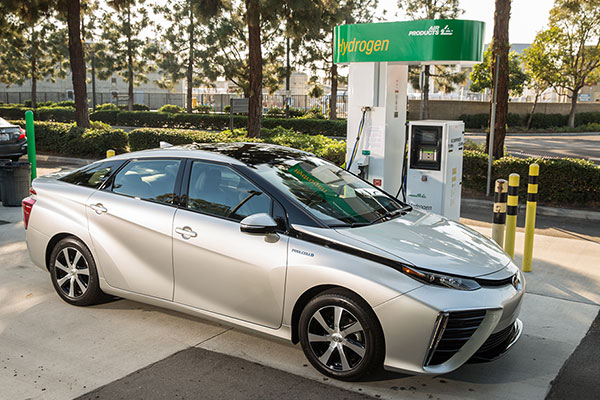 This could include efforts to sell as many as 700 units in 2015.
California already has set up 100 hydrogen fueling stations, with other efforts to bring another 80 charging stations to New York, New Jersey, Connecticut, Rhode Island and Massachusetts, according to Frost & Sullivan.
"These efforts are going to be the primary markets for Toyota in 2015 and 2016," noted Shankar.
Electric Charges Ahead
Whereas the Asian automakers may lead in fuel cells, the American OEMs could be charging ahead with electric vehicles, as suggested by the slate of new offerings shown in Detroit.
"GM announced its next-gen Volt range extender, which can juice out 50 miles all-electric range," Frost's Shankar noted, and "an all new EV Bolt was also launched to take on the might of Tesla Model 3."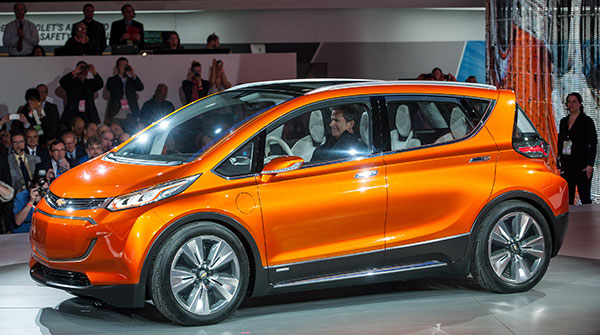 Both of these vehicles could provide drivers with a range of 200 miles or more on a full charge.
The American makers also could see competition from imports in the hybrid category, as well as alternative fuels, in 2015.
"Some of the European OEMs, including BMW, showcased their Diesel powertrain and their strong interest for this in the U.S. market," Shankar pointed out.
OEMs showed strong interests in hybrids, as well as plug-in hybrids, he said, with most D/Midsize segment cars available in hybrid or plug-in hybrid options.
Fueling Desires
The Detroit auto show is taking place during a period when drivers are enjoying the lowest national average gasoline prices in years, but manufacturers nevertheless were touting the fuel-saving features of their new cars.
"Ford and Lincoln are clearly interested in growing their gasoline engine footprint with the Ecoboost engine getting more aggressive," said Shankar. It is "expected to be available in the mid-sized and above cars and trucks in the future."