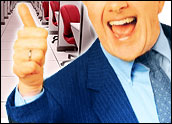 RSS stands for Real Simple Syndication, but for technologists with an eye on the Internet's future, it stands for much, much more.
The technology provides a way for people to opt to have information delivered to their computer desktops without having to burn time surfing the Web.
Although around for several years, RSS began to appear on the technology radar as Web logs, or blogs, gained popularity. Bloggers used RSS to keep their audiences informed about their latest musings.
Going Mainstream
"With increasing adoption of RSS, the concept of 'subscribing' to content on the Web is becoming more prevalent," Microsoft observed at its Longhorn Web site. "As this idea continues to gain in popularity, users will be able to subscribe not only to blogs and news, but also to content feeds (audio, video, documents, photos, calendar events, and so on) and lists (play lists, book lists, link lists, blogrolls, wish lists, top-10 lists, to-do lists, and so on)."
Microsoft gave RSS a big boost when it announced last month that it would be supporting the technology in the next version of its Windows operating system, known as Longhorn.
"Microsoft's move will accelerate the process of bringing RSS into the mainstream," Paul Forster, co-founder of Indeed.com told TechNewsWorld.
Looking for $100 Million
Indeed.com is a sort of Google for job searches. It will scour the Internet for job listings based on a searcher's key words. "RSS has become an important distribution channel for our users," Forster said. "They can run any search on our site and save that as an RSS feed."
Up to now, RSS has been a free technology. Subscriptions to feeds are free and so is much of the software used to collect and read the feeds. However, that doesn't mean there isn't money to be made from the technology down the road — at least that's the feeling of the founders of RSS Investors.
That company was launched last week in Cambridge, Mass., with the avowed goal to raise US$100 million in venture capital to fund firms whose business is based on RSS.
"RSS is emerging as the next great tool in the spread of information and ultimately freedom: freedom of expression, freedom of communication and freedom of information," RSS Investors partner Jim Moore said in a statement.
Viable Business Models
Another partner, John Palfrey, explained to TechNewsWorld that the venture fund will be focusing on three areas capable of spawning viable RSS business models:
Infrastructure plays, such as better ways to manage RSS traffic. "There are lots of infrastructure plays that will make more effective and more efficient the RSS syndication approach," Palfrey said.
Software providers. "We're looking at ways that make RSS more useful to the enterprise," he observed.
Content plays. "There's a broad range of ways that RSS can enable substantially better revenue through online advertising," he contended. "It's a very unobtrusive way to communicate with customers."
Pushing Advertising
Pushing advertising through RSS has already begun. Both Yahoo and Google began experimenting with the concept earlier this year.
"We're in the testing phase right now, but we're always looking for new distribution opportunities for advertising," Yahoo spokesperson Gaude Lydia Paez told TechNewsWorld. "Given the popularity of RSS, it's something that we're looking at very closely."
Among the testers of Google's RSS advertising project is Interscape Technologies, publisher of some 60 Web logs through LonghornBlogs.com. Interscape President and Chief Software Architect Robert W. Mclaws admitted that the project has been less than totally satisfactory for his company.
"There are a number of factors limiting the success of the product overall," he said.
Mixed User Reaction
For instance, he noted that the site has the word "blog" in its name, which results in less than satisfactory ads being served up to subscribers.
"Since there's not a lot of people offering products and services geared toward Longhorn yet, we don't have many ads to show," he said. "And because the space isn't competitive yet, the prices we're getting aren't as great as we would like."
He described subscriber reaction to inserting ads into feeds as mixed. At one end of the spectrum, there were marketing people who were really excited about the idea, he noted. "Then you had the other end of the spectrum with the die-hard RSS purists who said it was horrible and no one would read our RSS feeds because they're going to be clogged with ads," he said.
"Overall, I think it has been really positive," he maintained. "I think people understand that if you're trying to provide a service on a continual basis, you're going to have to be able to make money doing it somehow."