Welcome, dear readers, to Gadget Dreams and Nightmares, the column that's always on the lookout for the most compelling new gadget announcements, pumpkin spice latte in hand.
On the changing landscape of flora this week are a slew of new Microsoft gadgets, a US$40,000 speaker set, and furniture with some zap.
These are not reviews, as I have not tried these devices. The ratings reflect only how much I would like to test them with my own hands, preferably as I brush through piles of dried leaves.
Book Keeping
Right after Google unveiled the first tablet it created entirely in-house, Microsoft has gone them one better. Its Surface Book is a high-end laptop that falls in line with the Surface ethos.
It's a convertible that works in tablet format, but its keyboard appears vastly superior to the ones available for other Surface devices.
With a 13.5-inch display, sixth-generation Intel processor, up to 16 GB of RAM, and a battery that lasts up to 12 hours, according to Microsoft, the Surface Book seems to pack the goods.
The GPU boosts it to twice the speed of a MacBook Pro, Microsoft claimed, so it has power on top of portability.
It looks fantastic, and if it can deliver the type of performance and battery life Microsoft has promised, it seems absolutely worth the $1,500 price for the base model.
I'm not sure at this point, after using Windows for 20 years, that I'd switch to a Mac — so it's nice to see Microsoft is stepping up to deliver a MacBook-comparable product from its own factory.
Rating: 4 out of 5 Smooth Surfaces
Illuminating Smartphone
Microsoft also announced two high-end flagship phones, the Lumia 950 and 950 XL. Both seem like fine devices, and while I've had no experience with Windows-powered phones, I'd love to test them out — especially since, thanks to the dock, they can connect to a display and act as a mini PC. That's extremely useful.
However, the budget Lumia 550 caught my eye a little more amid this week's announcements. Microsoft didn't reveal much about it, but the snippets it did offer suggest that this is a budget smartphone with considering.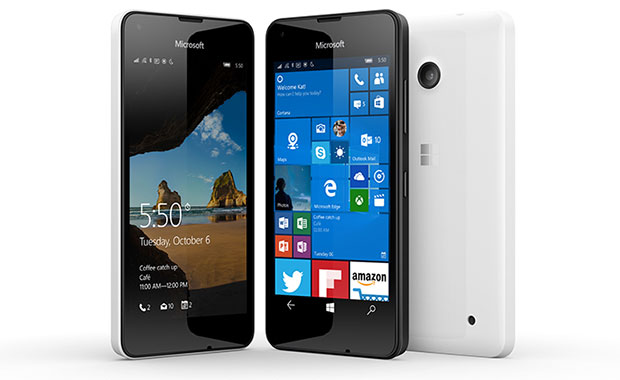 Lumia 550
It boasts a quad-core processor, 5-inch screen, and 8 GB of storage with microSd expansion. It has 5-megapixel rear and 2-megapixel front-facing cameras. It's not something that necessarily would set the world alight — especially since it's not running the arguably more-desirable iOS or Android platforms.
Still, at just $140, the Lumia 550 seems like a great deal. Regular readers will note I'm due a phone upgrade and have yet to make a decision on which device to swerve to next. This is not it, though I'm almost tempted to take last year's iPhone, and pick up one of these as well with the savings I'd realize by not buying an iPhone 6s.
This is seriously tempting as a backup, and definitely worth considering for those on a budget who want to try something that's not an Android device.
Rating: 3 out of 5 Open Windows
Bang for Your Buck
Bang and Olufsen is commemorating its 90th anniversary with the BeoLab 90 speaker.
This is a 300 lb. monster with 18 drivers and amplifiers. It is an 8,200-watt system that pushes sound in 360 degrees. It offers an app that allows one to perfectly attune the speaker to its surroundings, and it has a feature that lets one focus sound ration on where you're located. I don't know what that means, exactly, but it sounds fancy. As well it should, given the $40,000 price tag.
I have few doubts the audio quality is spectacular, and yet it looks more like the Aggro Crag from Nickelodeon's GUTS than an extreme high-end speaker (yes, I am a '90s kid). It seems like a design experiment seeping into the wild and reeks of Bang and Olufsen trying something outrageous simply to mark the milestone.
If someone offered me the BeoLab speaker for free, I am not certain I would take up the offer. I have an apartment, not the type of opulent mansion one might need to house this.
Rating: 3 out of 5 Speak for Yourselves
Electrifying Furniture
I've mentioned before my dislike of wireless charging. I think it's wasteful and energy inefficient. If we have no choice in the matter, however, I hope charging stations are this nice.
The side table from Fonesalesman's FurniQi range — the first product from the line — is made from bamboo and, unlike the BeoLab, would fit in quite nicely by my couch. It's not the most beautiful of side tables, but if I wanted one that's also a charging station right now, this would be my choice.
Sure, IKEA has furniture that works as charging stations as well — but this just looks far more elegant than anything that company has to offer. I would try it, though begrudgingly.
Rating: 3 out of 5 Powered Pandas