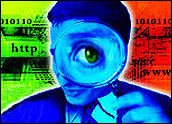 Welcome to Gadget Dreams and Nightmares, the column that sorts the wheat from the chaff in new gadget announcements.
We're in the post-CES doldrums as far as shiny new toy reveals go, but there's plenty ahead in our crowdfunding-heavy lineup, including a thermometer smartphone accessory, flashing headphones, the world's cleverest mattress cover, and a Bluetooth headset/voice recorder.
As always, the ratings should be taken with a pinch of salt — they only relate to how much I want to use each product. These are not reviews.
Feeling the Heat
JoyWing's Wishbone is a fancier thermometer than what you or I will have seen on any trip to the doctor. It's a smartphone attachment that gives temperature readouts within a couple of seconds without even having to touch the person or material it's examining, thanks to an infrared sensor.
It's inexpensive, at US$26-35 for those pledging to the crowdfunding drive, and I like the capacity to track the temperature changes of an object over a period of time. That feature could come in especially handy for fussy new parents who want to keep close tabs on their infant's health.
That said, I'd be more inclined to use it to check if my toast was still warm without having to touch it.
Rating: 4 out of 5 Cool to the Touches
Light Beats
The team behind the Glow earphones wants to make listening to music more of an audio-visual feast by lighting up the device cable. It can pulsate in time with the rhythm of the music you're listening to, and with an Android focus, it can operate one's phone and Google Now from the remote.
It's an intriguing spin to try to make a splash in a crowded market, but I would find it too flashy to wear in the street, especially at night. I'd be more inclined to tuck the cable inside my coat, which quite possibly would give me the luminescence of a glow stick. Maybe the makers were onto something with that name.
Rating: 3 out of 5 Solo Raves
Smarter Sleep
I've gone back and forth many times on my feelings toward the Internet of Things, or IoT, movement. On one hand, the idea of connecting everything in my home with a power supply to a smartphone-controlled network is overwhelmingly exciting. On the other, there are many things I like doing the old-fashioned way. I'm not sure I'd trust a robot to make my morning eggs, for one.
Still, if there's one single item that's done more than any other to sway me to the former line of thinking, it's the wondrous Luna smart mattress cover. It has hit the nail on the IoT head.
It just works, in that it learns your sleep routine and what temperature you and your partner prefer your sides of the bed to be at, and adjusts both accordingly even before you get to bed.
What's more, when you do settle down, it can latch your front door's smart lock, lower the temperature elsewhere in your home, and dim the lights, thanks to integrations with a variety of smart home products. It does the reverse in the morning when it's time to wake up, and it can start warming your coffee so it's ready by the time you shuffle into the kitchen.
It's caught on quickly with the masses, since it hit its US$100,000 crowdfunding goal within six hours, and I admit I've fallen for it. Not merely because I love sleep, but because it appears to work so seamlessly within the fabric of one's home setup.
It's a shame it's not bed bug-repellent, but hey — nothing in this life is perfect, gang.
Rating: 5 out of 5 Toasty Toes
Ears Going Blue
To narrow our focus for a minute, working in the media industry means you're likely to conduct many phone interviews and need to transcribe them. That means having a way to record calls.
The Bluewire Bluetooth headset does just that, recording up to 1,000 hours worth of chatting.
I'm sure it'd come in useful for people in all manner of sectors (or while in the car), and it's nice to see a function for recording Skype conversations along with NFC data transfers to smartphones. There's also a burglar alarm feature, which is odd and unexpected, though hardly worth an entry into the con column.
That said, I've always found Bluetooth headsets like this silly looking, and I have an instinctive, immediate revulsion to anyone I see wearing one. Using this is probably not worth the risk to my street cred. I'll stick with my Skype recorder tool.
Rating: 2 out of 5 Tapped Phones