Welcome to another edition of Gadget Dreams and Nightmares, the column that sets sail for uncharted waters filled with majestic new gadgets, all the while avoiding the terrible gizmos on the rocky coasts.
On our charts this week are a drone with better tracking sense than a bloodhound, a portable speaker from a company more associated with guitar amplifiers, and an inductive liquid heater, which is more enticing than it sounds.
Remember: These are not reviews, seafarer. The ratings relate only to how interested I am in each item, and are not in any way influenced by how many billions of dollars I may have bid for AOL.
Drone Tracker
Camera drones certainly are growing in popularity — or further polluting the sky, depending on your perspective. A new model plans to follow your every move, thanks to a tracker on your wrist.
After you throw Lily, it will fly up to 50 feet in the air and 100 feet away from you, knowing where you are and keeping its lens focused on whatever you're doing. A smartphone app helps you adjust the camera angle, and has two cameras to boost the number of possible angles.
Lily also uses an accelerometer on the tracker to recognize when your motion shifts suddenly — like if you're a BMX addict jumping off a ramp — and will momentarily switch to slow motion footage to give your moment of glory a little more shine. Rad.
I would have loved to have something like Lily when I walked in the Scottish Highlands to capture myself in the majesty of that natural beauty — well, at least in the early part of the trek, before every step felt like the last I'd ever take.
We've seen auto-follow drones before, and the Nixie is certainly more portable — and perhaps more practical, since it wraps around the owner's wrist when not in use. Also, there's no collision detection in Lily, so it might not be best suited to parkour aficionados.
Lily is an impressive little package, though, and I want one. Thanks to the apparent robustness, waterproofing, and adorable Wall-E-style "face," I have a gut feeling this will be the first commercial drone to really, er, take off.
Rating: 5 out of 5 Lily Pads
Rocking in the Wire-Free World
Marshall Headphones is expanding its audio footprint with a series of portable speakers, and here's its first portable model, Kilburn.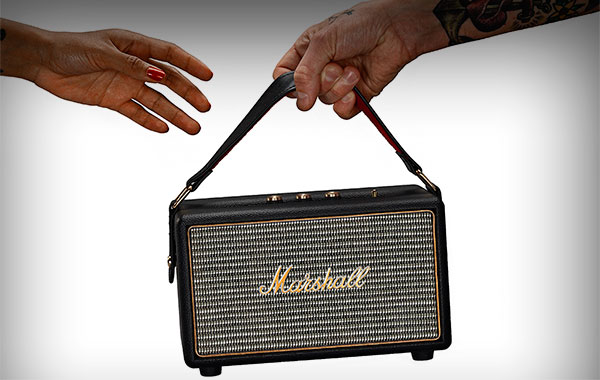 I have a soft spot for Marshall, since even though I'm terrible, I enjoy noodling around on a guitar. Before I switched to an acoustic setup, Marshall was my amplifier maker of choice. I'll freely admit that I love the aesthetic and the sound of Marshall products.
Kilburn lasts for up to 20 hours of playback and has both Bluetooth and wired inputs. Most exciting to me is the trifecta of knobs to control the volume, bass, and treble settings, along with a power switch rather than a button. It looks just like my old amp.
Having a speaker with one of those would make me want to move to a new place just so I'd have space for a few electric guitars and an amplifier. I might just have to content myself with taking a Kilburn to the park, blasting some AC/DC, and playing air guitar.
Rating: 5 out of 5 Rockin' Solos
Fast Boil
Miito is an inductive heater designed to quickly heat liquid in any container.
Fill your container with water (or milk or soup), place it on the base, and drop the induction rod inside. The base heats up the disc at the base of the rod, which in turn boils the water. That seems straightforward enough.
I have no doubt I frequently overfill my kettle and waste time, energy and money by letting it take longer than necessary to boil. Putting the exact volume of water I want for my tea in a cup, and heating it then and there, sounds like a dream.
Add to that Miito's ability to boil a cup of water in less than a minute, and I'm sold.
I hope the induction heater means that only the liquid and the base of the cup are warmed. If ever I should find myself in need of instant coffee (which is almost never), I don't want to place my cup in the microwave and have trouble holding it because the handle's too hot.
I'd really love to see an option to set different temperatures. It's a stretch goal for the crowdfunding project, and it might happen, thanks to the success of the campaign so far.
I'm a touch concerned about safety, but this thing boils water so fast, I wouldn't walk away for five minutes as I do with my regular kettle. I could wait there and watch it boil the entire time without getting bored or distracted.
Unless my thoughts should turn to playing air guitar in a park while a drone films me from above, that is.
Rating: 5 out of 5 Soothing Cuppas