Welcome to Gadget Dreams and Nightmares, the column that has one eye on the holiday season and another on announcements for products companies are rushing to get on shelves before Nov. 24.
In our pre-Black Friday chaos this time around are a refreshed Kindle, the first smartphone from Razer, and gloves you can use to pay for things.
As always, these are not reviews, and the ratings relate only to how much I'd like to try each item. They have nothing at all to do with whether they're naughty or nice.
Stay Calm and Read On
One of the great joys of reading is that you can do it anywhere. A relaxing bath is a prime opportunity for getting through a few chapters, but woe betide those who let their paperback slip into the tub or accidentally splash water into the most delicate part of an e-reader. And, lo! Amazon has a solution with its Kindle Oasis (pictured above).
The device can survive in fresh water up to a depth of two meters for as long as an hour — perfect for those long soaks when you just know you'll end up snoozing for a bit (though I do advise against that for your own safety). But wait, there's more!
The Oasis has a refreshed build with an aluminum back and glass front, and a shifted center of gravity that might make it more book-like to hold. Yet, it's 10 grams lighter than the Paperwhite.
It packs in a bigger, 7-inch, 300 ppi display, with faster page turns and a glare-free screen. For those who want to absorb their latest hot read without having to stare at a screen for hours, Oasis is compatible with Audible, Amazon's audiobook service.
I'm perfectly happy with the trusty Paperwhite I've had for a couple of years. If I ever wanted to switch to an audiobook, I could always use my phone. Come to think of it, I haven't had a bath in years, and I haven't been to a beach since early 2016, so the waterproof aspect isn't something I'm craving — other than to protect what I'm reading from accidental tea spills.
There's a lot to like about the Kindle Oasis, though, and if I were in the market for an e-reader, I'd absolutely consider splashing out for one.
Rating: 4 out of 5 Mirages
Razer Sharp
The first smartphone from Razer, aptly called "Razer Phone," is targeted toward gamers, a natural move for the company.
It has a 5.72-inch, 120-Hz Ultramotion display, 8 GB of RAM, Dolby Atmos-powered speakers directing audio toward the front, and a handy USB-C adapter for fans of modern headphones.
There's no headphone jack, unfortunately. Razer Phone does include dual rear 12-MP cameras and 64 GB of expandable storage through microSD, and it is ready to support next year's Android Oreo.
That screen refresh rate and undoubtedly strong audio make it a solid option off the bat for mobile gamers, and I have little reason to doubt it'll be good for video watching too.
This handset seems a solid option for those in need of their gaming fix on the go. It doesn't seem to really fix my misgivings about the awkwardness of touch input for games (outside of casual titles), so pairing it with a controller is probably a good idea. Especially if you're considering playing all those classic Grand Theft Auto games on the train.
I doubt I'm going to switch to an Android device, but I'd like to play around with the Razer Phone, even just to see how green the grass is on the other side with a handset I could see myself getting behind.
Rating: 4 out of 5 Not Quite Nintendo Switches
Like a Glove
Attendees at the Winter Olympics (and maybe soon elsewhere) will have the chance to make payments without even needing to tap their phone or watch. That's because Visa has loaded stickers, lapel pins and gloves with NFC technology.
---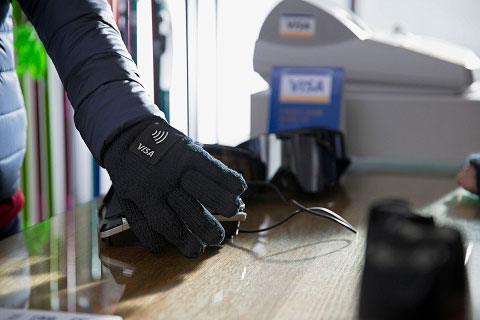 Visa NFC Glove