Welcome to a weekly look at the latest gadget offerings scrabbling for our hard-earned money in Gadget Dreams and Nightmares.
On the docket this week are six new tablets and e-readers from Amazon, a pair of intriguing Kickstarter projects, and a smart thermostat.
As ever, the ratings reflect only how much I care about trying out each item. These are not reviews.
Amazon Fire HD and New Kindles
Apple might be the flavor of the minute as new iPhones hit the market, but Amazon isn't ready to let its rival hog all the limelight.
Without a flashy presentation, it unveiled a half-dozen new Fire tablets and Kindle e-readers.
There's a 6-inch Fire HD tablet priced at US$99 (pictured above) and a 7-inch version that comes in at $139.
The Fire tablets are reliably solid machines, and those are fantastically enticing prices for entry-level tablets that still have access to all the apps a customer might expect and, of course, the Amazon digital goods ecosystem.
There's a high-end tablet on offer, a refreshed HDX 8.9-inch machine, with a screen packing in more pixels — 30 percent more than the iPad's Retina display, Amazon wants you to know.
It also has a brag-worthy new sound system that makes it twice as loud as an iPad Air, and — get this — it's actually 20 percent lighter than an iPad Air.
It won't leave your wallet as light as the Air, though. Starter prices are $379 for Amazon's Fire HDX, versus $500 for the iPad Air.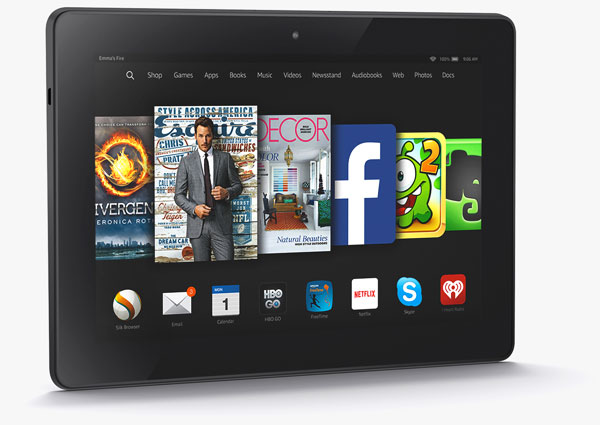 Much more interestingly, Amazon's offering a tablet for kids.
The alternate version of the 6-inch Fire HD has a kid-friendly colorful protective case, parental controls to encourage learning before settling in for some SpongeBob SquarePants, and a two-year guarantee.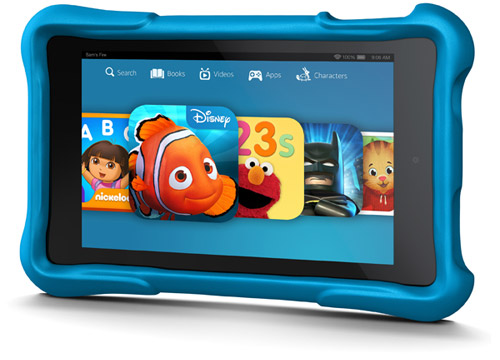 Meanwhile, the new Kindle e-readers are iterative improvements on previous versions. It seems oblique to pick up a Kindle now when Fire HDs are at the same price or cheaper.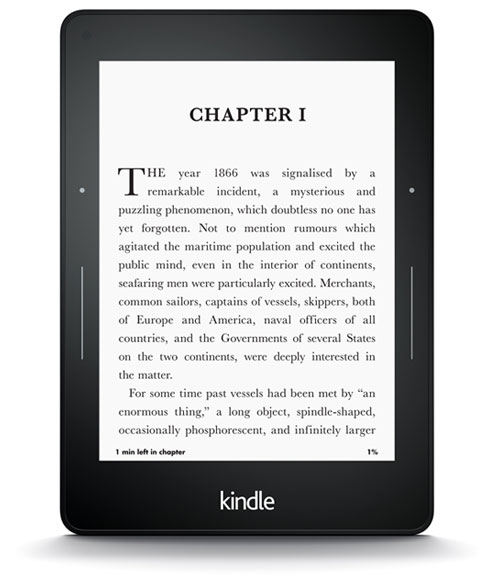 However, Amazon is smartly trying the something-for-everyone approach instead of Apple's one-size (or two-size) fits-all tactic.
The Fire HD is a good machine and I'm very tempted to pick one up — $99 seems like a steal.
Ratings: 4 out of 5 Flames (tablets); 2 out of 5 Flipped Pages (e-readers)
Vrvana Totem
Stamping along the path forged by Oculus Rift, the Vrvana Totem promises a different spin on virtual reality headsets.
It's touting high versatility, for one thing, as it's said to plug into any HDMI source and work. Wearers can tap a button to slip back into the real world — or at least a hyper-real version of it — without taking off the headset. Its makers also promise control pad emulation and low latency.
The Totem is highly promising, and could make a welcome alternative to the Oculus Rift for those who would rather not be assimilated into the Facebook machine. Vrvana is running a Kickstarter campaign, though the company's based in my city, so I might try to wangle my way into the office to try it out.
Rating: 4 out of 5 Immersive Realities
AquaSprouts Garden
I have little space for a garden on the balcony of my apartment, and yet each year I manage to fill it with more herbs than I know what to do with. I adore having my own little green space that's separated from the rest of the world.
In the frigid winter, though, there's no choice but to buy herbs from the store, and I often end up with far more than I need for a given recipe.
That's why I think AquaSprouts Garden is a great idea. It's a device that slots into a standard aquarium and turns it into an aquaponic garden. Fish waste fertilizes the plants and herbs, and those filter water in the tank.
It's a great idea. Unfortunately, I don't have space in my small apartment for an aquarium, so I can't imagine I'd get this any time soon. There's hardly a downside, otherwise. You get to relax by watching the fish swimming around, you get produce from the garden, and parents might be able to teach their kids a thing or two about nature.
Rating: 5 out of 5 Basil Leaves
Ecobee3 Smart Thermostat
I despise wasting energy on heat when I'm not home. With multiple manual thermostats spread across several rooms of my apartment and no timer, it's inevitable that I'm leaking energy and money in a woefully energy-inefficient model.
Something like the Ecobee3 Smart Thermostat would be most welcome in my abode. It has wireless remote sensors to measure the temperature and occupancy of a room, so it can adjust the heat accordingly. It would be nice to control the thermostat remotely, so my living room is toasty just when I get home.
Again, the foibles of living in a rented apartment arise. I can't tinker with the thermostats. As much as I'd love to have a smart thermostat regulating the temperature, and as much as I'd love to at least try it out, it's not a viable option for me.
I really do need to move.
Rating: 4 out of 5 Degrees Celsius