Salutations, and welcome to another edition of Gadget Dreams and Nightmares, the column that sinks the battleships of terrible gadget announcements while prowling for the submarines of the exquisite.
On the grid this week are a rugged tablet, a wireless external smartphone storage stick, a modular speaker system, and a wearable for storing headphones.
As ever, the ratings mean zilch, other than to reveal my interest level in trying out each item. Also, these are not reviews, partly because some of these products don't fully exist yet.
Tough Tablet
Dell's Latitude 12 Rugged Tablet (pictured above) is designed for people who work in the field, for the military and explorers, for industrial work and first responders. This system can handle some harsh conditions, including temperatures between -20 and 145 degrees and drops from more than four feet, as well as spills, mud, dirt and sand.
It boasts an 11.6-inch screen, fifth-generation Intel Core CPUs, up to 12 hours of battery life, and up to 512 GB of solid-state storage.
That sturdiness is something I'm all for. My poor smartphone has been through the ringer. It's somehow, by something or someone that is definitely not me, been dropped so many times the volume rocker no longer works, and it's a chore to lock my screen with its temperamental power button. So, yes, I am all for a more durable mobile device.
Pricing hasn't been announced as of yet, but that sturdiness surely will come at a premium. Still, even if the Latitude 12 might break the bank, it's a lot less likely than most other tablets to break itself.
Rating: 4 out of 5 Off-Road Tumbles
Super Storage
One of my biggest pet peeves when it comes to smartphones and tablets is the cost of extra storage beyond the basic model. Adding more storage to a device without a memory card slot can cost hundreds of dollars, even though the cost to the manufacturer is tiny.
So I'm more inclined to take a base model and look at external storage options where possible, and Sandisk's Connect Wireless Stick seems a strong bet. The device aims not only to defy tyrannical storage limits on smartphones and tablets, but also to help transfer files between devices with greater ease. I'm already sold.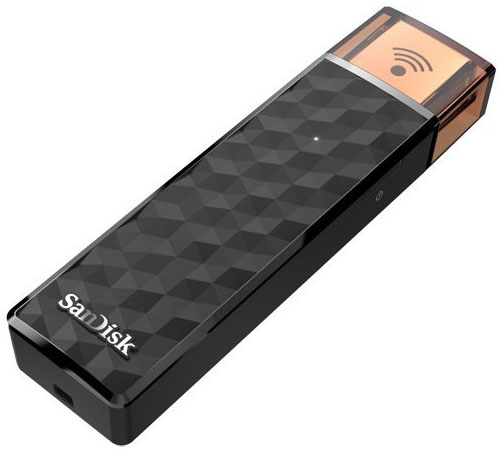 The wireless USB stick can hold up to 128 GB of files and stream data to devices over Wi-Fi for up to 4.5 hours on a sole charge. It also automatically backs up photos and videos captured with the device's camera.
It honestly sounds like a treat. I think I'd rather spend US$100 on a 128-GB wireless memory stick than to get an extra 48 GB of onboard storage for the same price on my next iPhone, as slightly cumbersome as the wireless streaming process might be.
Rating: 4 out of 5 Extra Movies
Block Beats
I'm extremely intrigued by modular devices at the minute, such as Phonebloks and Google's Project Ara. So when a crowdfunded speaker system dropped into my feed this week, it grabbed my interest immediately.
You can use whichever speaker components you like with SparkBlocks and arrange them as you see fit. The MainBlock — which should be evident as to its purpose — houses the volume controls and amplifier that apparently delivers HiFi sound.
The in-development SmartBlock, meanwhile, offers functions such as taking calls, changing songs, downloading apps (including YouTube), and viewing notifications.
There's an optional bike attachment, which is neat, even if I don't quite understand why you wouldn't just use earphones while cycling. There's also a USB block option, which allows one to charge one's smartphone.
It's an impressive-looking system, and it truly does seem to offer myriad options for listening to audio. I'm eager to try these out, if only to pretend I'm using a toy construction set from the future.
Rating: 4 out of 5 Cornerstones
Helix Hex
Helix is a wearable wrist cuff that houses a set of Bluetooth earphones. The idea is that you'll keep a pair of quality earphones close by for whenever you need them, without having to deal with messy, tangled cables in a desk drawer or pocket as much.
I'm not sure a fancy way of storing an aesthetically standard set of Bluetooth earphones is something I'm particularly keen to invest in — especially when there are other, more compelling crowdfunded earphone projects, such as the Dot headset we looked at earlier this month.
It doesn't look as though there's anything special about the cuff itself either. I'm bullish on fitness trackers, though it seems odd Helix didn't see fit to add even a pedometer to the cuff.
Rating: 2 out of 5 Twisted Wrists