Welcome to Gadget Dreams and Nightmares, the column that's emerging from the shadows of this mind-crushingly terrible election season to pore over the latest gadget announcements.
On our ballot this time around are a microphone that can plug into an iPhone or iPad, a smartphone case with an E-ink display, and a flexible keyboard that houses an entire computer.
As ever, the ratings reflect only how much I'd like to try out each item with my hands, ideally before the world descends into post-election chaos. These are not reviews.
Portable Podcasting
I've tried dipping my toes into the world of podcasting with a friend this year. It's been challenging to find times that work for both of us to get together and record, but for the two (pretty successful, I confess) trial runs we've had, I bought a Blue Snowball mic. I'm very pleased with the sound quality, so I'm fairly certain I'd be happy to have Blue's latest microphone, Raspberry (pictured above).
It's a gorgeous, portable little thing, which you can connect to a PC or Mac using a USB cable. However, it is also bundled with a Mini USB to Lightning cable to make it easy for you to capture quality audio using an iPhone or iPad.
There's an included stand with shock-absorber feet, so that should help cut down on unwanted vibrations and rumblings. When taking the mic elsewhere, the stand folds over it for better portability. If you prefer, you can attach Raspberry to a standard tripod or mic stand instead.
The mic also has a headphone jack, headphone volume dial, and a level/gain control that doubles as a mute switch. That can come in especially useful if you need to cough — much better to cut out an unwanted sound during recording instead of in the editing process.
It's a bit pricey at US$199, though I haven't seen a better option for recording clear audio when on the go without having to lug around a laptop and bulkier microphone. Maybe I'll finally be able to start podcasting with my friend again, once I find a time that works for both of us and a quiet spot away from home, unencumbered by noisy neighbors.
Rating: 5 out of 5 Juicy Berries
Dual-Screen Delights
I've written previously about YotaPhone, the Android smartphone with an e-ink screen in the rear. It's a tremendous concept, as I tend to dislike reading at length on my phone's regular screen.
The InkCase i7 from Oaxis is an attempt to bring such functionality to the iPhone 7 through a case. (The company previously released e-ink cases for earlier iPhone models.)
Features include a 4.3-inch screen, support for EPUB and TXT formats and notification display. It connects to your phone over Bluetooth. You can use it to display images, but you'll need to make do with monochrome versions of your favorite photos, of course.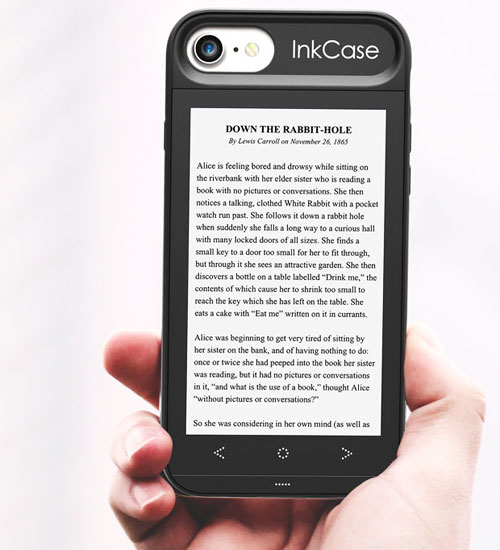 If I find something while on my phone that I'd like to read, but it will take me more than a minute or two, I typically send it to Instapaper, which then passes along the 10 most recent pages I've saved to my Kindle every day.
That works for me, so I don't think I'd get a great deal of use out of InkCase, save for maybe using it for shopping lists and to-do items I can check at a glance, or if I wanted to leave my Kindle at home.
I appreciate the effort and the idea, though I am a little disappointed there's no battery pack included in the case. Nor I am I a fan of the giant InkCase logo Oaxis slapped on the back.
Rating: 4 out of 5 Easier on the Eyes
Bendy 'Boards
Vensmile K8 is a flexible rubber keyboard that also happens to include a computer capable of running Windows 10.
The base, which attaches to the side, houses a touchpad, 4 GB of RAM, 64 GB of storage, and an Intel Atom Cherry Trail processor. There are HDMI and VGA ports for connecting to that all-important display, along with two USB ports, a headphone jack and a microSD slot.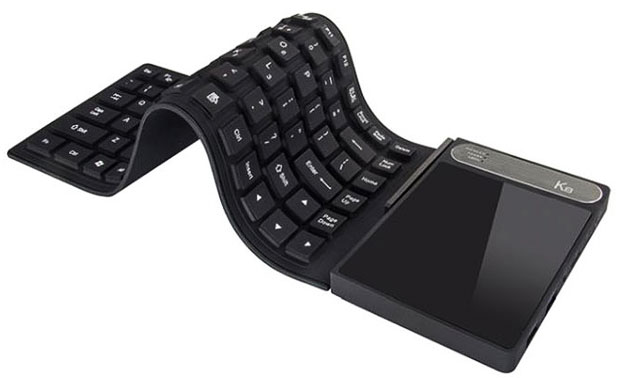 I can't imagine the performance is amazing, but the portability and connectivity is nothing to sniff at, especially when the keyboard can wrap around the box for compact storage.
I don't think typing on a rubber keyboard for long stretches of time will be all that comfortable, however, and at US$200, I think finding a cheap laptop would be a better solution.
Rating: 3 out of 5 Flexible Work Hours