Welcome to Gadget Dreams and Nightmares, when we take a break from exploring the world around us in search of Pokmon just long enough to bring you the most compelling — for better or worse — recent gadget announcements.
In our Pokdex this time are a printer with a difference, a hyper-affordable smartwatch, a way to bring 3D sound to your headphones, and a font-capturing tool.
As always, these are not reviews. The ratings denote only how much I'd like to try each product, and are in no way reflective of how desperate I am to find a Pikachu.
Pleasing Paper
I recently looked at three home robots that were so adorable, you'd need an impossibly horrifying day to wipe the smile off your face after seeing them.
That said, I never thought I'd write the following: You can add a printer to the list of cute gadgets that I never want to be without.
Paper, designed by Ludwig Rensch, is sadly a concept for now. It holds a ream of paper to make loading the printing material easier than shuffling with a stack of loose leafs. It can scan documents and send them to your phone if you desire. It can make copies.
There's a string of LEDs to show how much ink is left for each color, and there's even a handle on top to make the compact printer easy to move.
At first glance, it seems abundantly easy to use. The design is clean, though I'm a little disappointed there are no anthropomorphic elements.
I moved to a new apartment recently, and the very last thing I did at my old place was to dump my old, bulky printer that never saw use more than a few times a year. If I were someone who needed to print documents often, I'd be clamoring for this. It's a shame it's not an actual product, at least not for the time being.
Rating: 5 out of 5 Perfect Printouts
Wallet-Friendly Watch
In a world of Apple Watches and Gear S smartwatches that can set you back hundreds of dollars, it's heartening to know there are some functional smartwatches that cost about the same as a cocktail.
One, the U8 Smartwatch, now sells for less than US$8. It can make phone calls, track your steps and sleep, and alert you to updates with notifications. Somewhat astonishingly, it has a touchscreen.
There's a catch, for me at least, since it works only with Android, and I'm an iPhone owner. Although I'm skeptical of smartwatches in general, I'd actually be tempted here if I had an Android smartphone. Even if only so I could pretend I'm a Secret Service agent when talking into my wrist.
Rating: 4 out of 5 Cheap Chronometers
True Surround Sound
For all the buzz about virtual reality, something that gets lost a little in the current audiovisual conversation, at least from where I'm sitting, is 3D sound — sound that appears to come from anywhere within a 3D space. You won't have to shell out for dedicated headphones to make the effect work, thanks to a new peripheral.
The 3D Sound One Module fastens to your over-ear headphones and uses Bluetooth to connect to your computer, iPhone, or iPad. It has nine sensors to track your head movement, and the music you play through a dedicated app will reach your ears in surround sound.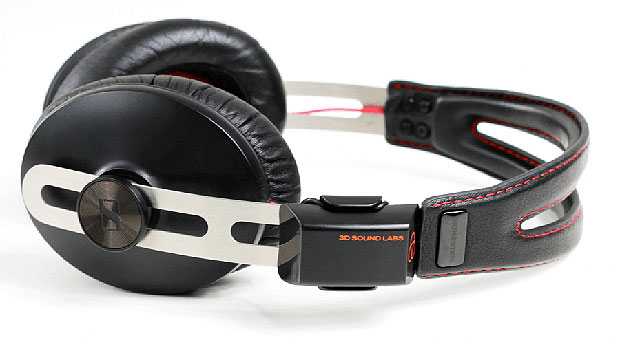 At $99, it's a relatively inexpensive way to try out 3D sound and learn if it's how you'll listen to music in the years to come. The technology is interesting, and — much like the glass speakers I looked at in the most recent edition of this column — could point to how we're all going to enjoy audio in the not-too-distant future.
Rating: 4 out of 5 Songs in Space
Text Trapper
Spector is a device that can capture and identify printed fonts and colors. It can then send those details to Adobe InDesign for you to use. Alternatively, you can store up to 20 fonts in the device's memory for later use.
It works by capturing an image of the font and color(s) and determines the font using a database. While Spector can identify font size, leading and kerning to replicate the text you've found exactly, the device is currently a prototype, and for now it can pinpoint only seven fonts.
I'm not exactly what you call a designer, though I do appreciate good fonts. It's a neat idea, and I'm heartened to know I'll never again need to send a cover letter in Comic Sans when racking my brain for an option that will help me stand out.
Rating: 4 out of 5 New Romans