Welcome to Gadget Dreams and Nightmares, the column that really wants to make a lot of jokes about exploding smartphones while perusing the most compelling recent gadget announcements.
In your latest edition, we probe the Samsung Galaxy S8 and S8+, a 360-degree live-streaming camera, and an automatic guitar tuner.
As always, these are not reviews, in part because I wasn't flown out for the S8 launch event to test the phones with my own hands. Ahem. The ratings relate only to how much I'd like to try each item.
Galactic Advances
Samsung is back with a new pair of flagship smartphones it desperately needs to be hits in the wake of previous handsets that were a touch too, erm, explodey.
The Galaxy S8 and S8+ have dispensed with the physical home button and added an artificial intelligence assistant, screens that so very almost kill the bezel, and fingerprint sensors on the rear.
The Super AMOLED screens have 2960 x 1440 resolution and wrap around the front of the device. Even without actually seeing the phone in person, I'm impressed. It's as if the edge of the screen falls off, as though it were an infinity pool. It's a smart, striking design.
The 12-megapixel rear camera is apparently similar to last year's model, but there's an upgrade to the way Samsung process images, and it has upgraded the front-facing camera to 8 megapixels for sharper selfies and video calls.
Welcome decisions: Samsung has kept the headphone jack, as well as microSD slots that can add up to 256 GB of storage. The S8 and S8+ are water resistant and dust resistant as well. The fingerprint sensor placement does seem odd, but with a massive screen and sans a physical home button, there aren't many options for sensor placement on the front of the device.
The truly major step forward for Samsung is the addition of the AI assistant, Bixby. The eventual goal is to let you completely control your phone with your voice, something that SIri and Google Assistant can't pull off.
That target is apparently a while away, though Bixby will have a few tricks up its sleeves by launch day. It will recognize your behavior and offer suggestions based on your habits, and it can offer contextual information about the world around you.
Meanwhile, if you're so inclined, you can hook up an S8 or S8+ to a monitor, keyboard and mouse, and use a desktop version of Android. That's not an entirely novel idea, but if it works well it could prove vital to those who need to get work done in a pinch without carrying around a laptop.
All looks good so far for the S8 and S8+, and Samsung has new rigorous safety and testing standards that it's counting on to make those exploding batteries a thing of the past. Whether that is actually the case remains to be seen.
These look like strong steps forward for Samsung — and if Bixby works as promised, the S8 and S8+ could prove to be game changers, especially on an accessibility level.
Rating: 4 out of 5 Tiny Sticks of Dynamite
Coming at You Live in 360 Degrees
We've a heavy Samsung focus this time around, so here's a look at a new version of its 360-degree live-streaming camera.
The Gear 360 has a slick design and can broadcast footage in 2K resolution (it can record in 4K), but perhaps its biggest selling point is that it can function with iPhones. That could prove to be a huge draw for people who want to stream everything around them but don't want to jump to Android.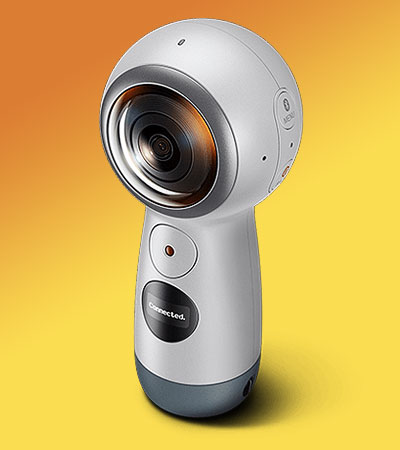 Coming from Samsung, the chances are that it's built well. Just make sure to clean your home before showing every corner of it to the entire planet.
Rating: 4 out of 5 Worlds Around Us
Tune Up
The typical method of tuning a guitar means carefully turning the peg while repeatedly plucking the string to make sure it's correct. This can prove mighty irritating to those you live with. Trust me.
So the Roadie 2 sounds ideal for me. It does all the tuning work for you, monitoring string frequencies to make sure everything's just right. You'll still need to pluck the string, but hopefully less often.
This version doesn't need to connect to an app to function, but if you do pair it, the app can track the health of your strings, which will help you know when to order a new set.
I don't know that I'd pay US$129 (or $79 during a crowdfunding campaign) for Roadie 2, but I like the idea. Anything that can help me reduce the frequency of tuning drones is music to my ears. (I'm so sorry.)
Rating: 3 out of 5 Perfect Pitches