Welcome to Gadget Dreams and Nightmares, your trusted mountain guide through the peaks and crevasses of the latest gadget announcements.
With Mobile World Congress having just wrapped in Barcelona, we have a mobile focus this time, with a look at a new BlackBerry, the latest Samsung flagship smartphones, and a colossal Huawei handset.
Also, we'll check out a set-top box with a gaming focus and an extremely useful pair of glasses for privacy adherents. Phew.
Remember, the ratings relate only to how interested I am in using each item, and these are by no means reviews.
On the Edge
Samsung is trying something a little different while simultaneously positioning its S6 and S6 edge (pictured above) as the market's dominant Android smartphones.
Sure, they're faster, smarter, brighter, stronger and more powerful than previous models — as you might expect in a flagship refresh — and that's all terribly pedestrian.
Still, I love the edge concept. I'm glad to see Samsung continue and expand it, with slivers of the screen bending around both edges of the surface.
What's most galling about this refresh is the discontinuation of the removable battery and SD card slot. That's disappointing, since both of those features gave Samsung a slight edge (sorry, sorry) over Apple.
Now those are gone, the S series looks increasingly like the iPhone, albeit a line that runs Android. Thank goodness the edge brings something a little different to the party.
Rating: 4 out of 5 Don't Push Mes
Leap of Faith
BlackBerry is forging a path for its revival with a new handset, the Leap, aimed at young professionals. It's perhaps not quite as flashy as the Passport, though it thankfully lacks that phone's unfortunate squareness.
At 25 hours per charge, the battery life is nothing to sniff at, and the inclusion of Android apps from the Amazon Appstore is welcome as well.
That said, there's nothing about this that screams at me to pay attention. It's just another identikit canoe, floating on down the endless river of mediocrity. There is no greater sin in technology than to be boring.
Rating: 3 out of 5 Humdrums
Huawei Goes Large Again
Trust Huawei to swing for the fences with a bonkers idea. This one, however, won't make it past second base.
The MediaPad X2 is fairly similar to last year's X1, albeit with (you guessed it) a faster processor and better WiFi. Unfortunately, Huawei hasn't done anything to reduce that absurd 7-inch screen.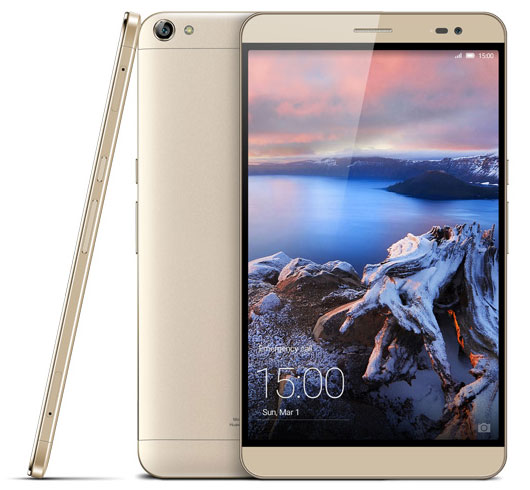 There is no one on this planet or any other who needs a phone with a 7-inch screen. It's ridiculous. It'd be like strapping a tablet to your face when you want to make a call. Your arm will get tired before you even say "Hello."
I'd be amazed if anyone who bought one of these opted to take calls the traditional way over a hands-free set or speakerphone. I'd be amazed if anyone bought one.
It'll be good for watching movies on the go, I guess, but otherwise you can pad out your wallet by not buying this.
Rating: 1 out of 5 Could Sink a Battleships
A 4K Shield
I've been consistently impressed by Nvidia's Shield line, particularly the tablet it released last year. I'm fascinated to see whether the set-top box version will succeed.
It's an Android media center that both streams and plays stored videos in 4K resolution, and runs all of the gaming content that owners of the Shield Tablet are used to.
That means access to bevy of Android games and those on Nvidia's Grid streaming subscription service, which offers the opportunity to play more resource-intensive games without an expensive gaming rig.
It seems well-priced at US$200 for the box and a game controller, especially compared with the much less powerful and flexible Ouya at half that price. I'm mightily tempted to pick one up, though I'm concerned my meager home Internet connection won't play nicely with Grid.
Rating: 4 out of 5 Agents of S.H.I.E.L.D.
Urban Camouflage
I'll admit this isn't a flashy gadget per se, but I had to mention it quickly. AVG (yes, of antivirus software fame) has created a pair of glasses that halt facial recognition software in its tracks. Infrared LEDs around the frame essentially act as a mask invisible to the naked eye.

It's a neat trick and one privacy advocates might be compelled by. I'm intrigued by the idea, as it's the suavest eyewear I've seen lately that's not a) smartglasses or b) X-ray specs.
I'm in the market for new spectacles anyway, and these are my kind of style, so if I can grab a pair with prescription lenses, it's bye-bye Facebook facial recognition for me.
Rating: 5 out of 5 You Can't See Mes