Welcome to Gadget Dreams and Nightmares, the column that occasionally peels its eyes away from Apple's big show just long enough to discover what else is happening in the landscape of gadget announcements.
Blooming in the world this time around are a dongle to connect a PlayStation 4 controller to your computer, a smart standing desk, and a way to power up your WiFi connections.
As always, these are not reviews, and the scores reflect only how much I'd like to try each device.
Standing Tall
After a long, laborious process and a lot of scraping paint splotches from the floor, the office space in my new apartment is ready for me to move into, and I will soon no longer need to write this column from my kitchen table. So, I'm in the market for a desk.
With my nascent interest in standing desks, the Gaze Desk seems a decent option. It switches between standing and seated modes with a button press or adjustment through an app. The dual lift function means you can adjust the height of the monitor independently of the rest of the desk.
What makes it a smart desk is it can shift automatically to your preferred setup as you approach. It also keeps an eye on your posture, sends notifications if you've been sitting for too long, and can rise to the standing position automatically to force you out of your chair for a while.
What's more, Gaze Desk can sync with other devices, so you can set it up to turn on your desk lamp and coffee machine when you sit down.
It's far from the first standing desk, though with a compelling feature set and clean design, it's certainly grabbed my interest. My only fear is that I will ignore the prompt to stand after I've been sedentary too long, and try to force the desk back to its seated position, injuring myself and negating the health benefits of the desk. I overthink things sometimes.
Rating: 4 out of 5 Perfect Postures
PlayStation on PC
For a few years after I moved across the Atlantic, I was without a games console. I've played games as long as I can remember, and to shut that side of my life away while I focused on building a new life in a new country pained me. I wish I'd had PlayStation Now in my life during that time, but at least I can take solace in knowing there are so many great games I still have to catch up on.
The PlayStation games streaming service is now available on PC, and there's a new US$25 dongle that should make it a cinch to connect the DualShock 4 controller and unlock its full capabilities, including the motion sensors, touchpad and headset jack.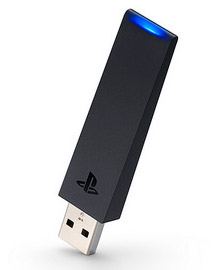 Players already could connect the controller using their PC's Bluetooth function, but they were limited in what they could do.
I'm building up my console collection again, so while I don't completely need this, it'll help me play through some titles that I don't necessarily want to pay retail price for anywhere there's a decent Internet connection and an outlet for my laptop.
PlayStation Now has the chance to thrive where OnLive failed, as it slowly adds new devices and expands its catalog — and I might be along for the ride.
Rating: 4 out of 5 Crosses, Circles, Triangles and Squares
Wide-Area WiFi
Sticking with the newish home theme, a poor decision on my part to opt for a DSL Internet connection over cable means my router is stuck in the office. Great for when I'm doing work — not so much for streaming on my living room TV with these thick brick walls everywhere.
Netgear's solution to this most 21st century of problems is a multi-unit router called "Orbi," a system that can carry a WiFi signal across 4,000 square feet. The main unit plugs into the modem, and the second goes in a central location. Netgear claims Orbi has an advantage over competitors through the use of a third radio in the units, which is dedicated to enhancing communication between them.
All of this is great, until you get to the price: $400 for the pair of units. That seems steep for a router. However, until I can convince myself that plastering Ethernet cables into the ceiling is the best way to connect my router to my streaming setup, this seems a far preferable way to avoid Netflix buffering when I rewatch Stranger Things for the third time.
Rating: 4 out of 5 Stronger Signals