Welcome, one and all, to another edition of Gadget Dreams and Nightmares, the column that somehow musters the energy to scour the latest in gadget announcements for those that deserve our praise or scorn, while still full of turkey from this week's Canadian Thanksgiving.
In our post-poultry bliss, we look at a smartphone with a focus on encryption, a modular smartwatch, a game controller for mobile devices, and a cable to power your own device with someone else's.
These are not reviews. The ratings are related only to how much I wish to try each item and give no indication as to how likely I am to buy them in the day-after-Thanksgiving sales that Canada doesn't get anyway.
Steady as You Game
I don't enjoy playing complex games on a smartphone. Using the screen as both input and output device makes matters complicated, so I tend to steer clear of any game that requires more than single taps or simple swipes.
There are a number of game controllers around for smartphones, however, and the Satechi Wireless Gamepad (pictured above) is one of the latest. The Bluetooth device is compatible with iOS, Android and Windows phones, and it keeps the device steady while you play in a spring holder.
It looks akin to many console controllers, particularly XBox. I'd love to try one out, though I have concerns over how many mobile game developers provide support for third-party controllers.
It's a little bulky as well, so I can't exactly imagine myself carting this around to play games on public transport.
Rating: 3 out of 5 Double Jumps
Phone Protection
We've seen some security-oriented smartphones before — from BlackBerry to Blackphone — but with BlackBerry straining for market share and Blackphone not exactly a household name, there's a space in the market for another company to wade in.
Archos is making a play with the GranitePhone. It runs a version of Android underneath Sikur's encrypted GraniteOS. It's not quite clear at this point how much of the typical Android service you'll be able to use, though GraniteOS provides encryption on functions including calls, messages, and cloud storage.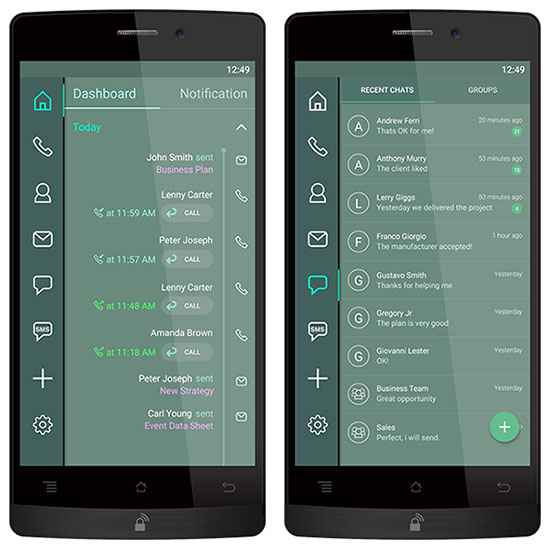 The hardware specifications are mid-range for a 2015 smartphone: Qualcomm Snapdragon 615 processor, 2GB of RAM, 16GB internal storage, a 5-inch, 1080p-resolution screen, and 10-megapixel back and 8-megapixel front cameras.
Details unfortunately are sparse at the moment as to how the encryption works and how the device functions. There's possibly a market for the GranitePhone among those in search of a high-security smartphone, but at US$850, I expect that market will be somewhat niche.
I'm intrigued enough to try it, though — as long as it can run Netflix, that is.
Rating: 3 out of 5 Encrypted Selfies
Transformable Timepiece
Longtime readers of this column may recall my enthusiasm for modular smartphone systems like Phonebloks and Google's Project Ara. Modular design is a fascinating concept, and I'm somewhat excited to see a company bringing it to smartwatches.
The base model of Blocks is available to anyone willing to pledge $195 to its crowdfunding campaign. Features include fitness and sleep trackers, calendar, text messages, notifications, and voice memos. For an extra $55 or more, you can soup up the smartwatch with modules that add essentially act as links in the strap.
The existing modules include those for extra battery, heart rate, GPS, near-field communications for contactless payments and data transfer, and one that measures altitude, pressure and temperature. There are myriad planned modules, including ones for SIM cards, LED, programmable buttons, air quality, camera, gestures, flash memory and body temperature. The open platform means we could see third-party modules that go much further out of the box.
It really seems like this is a smartwatch that can completely replace a smartphone for those who tend not to browse too much, or lwho ook less at their screen in general. It's not quite there yet, but the potential of Blocks is exciting, and I think many people will derive more value from this than a one-size-fits-all smartwatch from larger manufacturers.
Rating: 4 out of 5 Links to the Future
Jolt of Life
If you're in a bind and your smartphone is low on power, LifeCable allows you to connect to another device and draw power from it. Since it has both Lightning and micro USB connectors, there's a broad range of gadgets from which you can draw energy — but let's face it, it's probably going to be someone else's smartphone.
It's a clever idea, but it raises all sorts of moral questions. What if you and your friend both have a battery in need of a boost? How do you decide who gets priority? Are you really going to be that person at a party who leeches electricity from everyone else?
The regular retail price for LifeCable is $35, which is enough to buy two or three budget portable battery packs. Those offer far more flexibility than a LifeCable, which is essentially useless if there's no one else around to offer a top up from their battery. For those reasons, especially, I'd much rather pick up a portable battery pack than one of these.
Rating: 2 out of 5 Lifelines