Welcome, dear friends, to the latest edition of Gadget Dreams and Nightmares.
CES is over for another year, and with so much to discuss from the event, I'll get right to it.
As always, these are not reviews. The ratings reflect only how much I'd like to try each product, just as soon as I stop rolling around giggling at some of the more ridiculous items from this year's show floor.
Razer Sharp
Trust Razer to come up with something completely ridiculous that I need in my life immediately. Trust Razer to bring along two such concepts in the same year.
The first is Project Ariana,a projector that incorporates Razer's full-spectrum lighting system, Chroma (pictured above).
It uses a wide-angle lens to project images, but it seems there's no lengthy setup process required here.
Ariana uses 3D depth-sensing cameras to detect objects in a room and adjusts for them accordingly so that it still projects a flat image.
You can use Ariana as a regular 4K projector when you're not playing games.
It looks incredible, and as someone looking to make the switch from a hulking TV to a projector down the line, particularly for gaming, its feature set is impressive.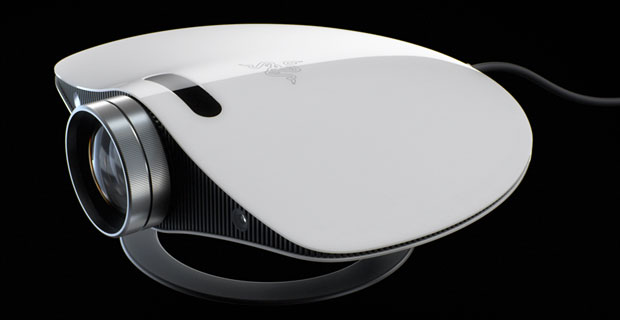 I love that it can connect with the Phillips Hue system to paint your entire room to match the onscreen colors.
The other product to escape from Razer's weird science laboratory is a laptop that goes big when it comes to screen real estate. The wonderfully absurd Project Valerie packs in three (yes, three) 17.3-inch 4K displays that automatically slide out to create a 180-degree viewing area.
It's packed with power, too, and should have no problems running Oculus Rift and HTC Vive content. The machine weighs 12 pounds. While a far cry from modern ultralight laptops, that's mighty impressive, all things considered. Razer somehow has managed to pack all of this into a 1.5-inch thick casing.
While there's not much detail on the specs or pricing of Ariana or Valerie, it's safe to say that each will make more than a little dent in your wallet. I've got a kidney I don't really need. Just need to find out where my local black market is operating and I'm all set.
Rating: 4 out of 5 Who Needs All Their Organs Anyways
Super Speaker
I don't have a great deal to say about Bang & Olufsen's Beoplay M5 speaker other than it's another thing I need to have in my life immediately. It's gorgeous, assuredly sounds great, and has all the connectivity you'd expect from a modern wireless speaker.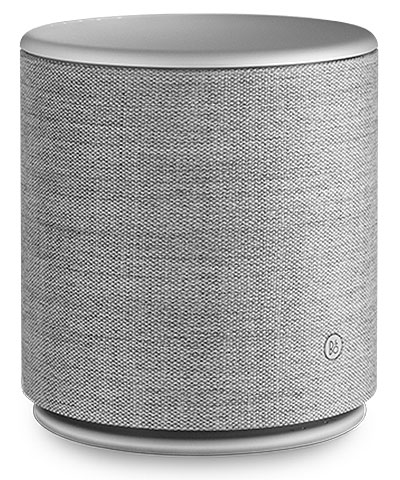 Controlling the music is a matter of pressing down on the top to play or pause, and rotating it to adjust the volume. It's already available to purchase and costs US$599. I'm sure I can find a mechanical heart to replace mine once I sell it to pay for this lovely noise machine.
Rating: 5 out of 5 Speakers That Will Neatly Match My Bed's Aesthetic
Ways to Waste
There's a local composting program where I've lived for the last six months and I've yet to take part. I am a terrible person, I know. But hey, CES offered up a device to make composting easy, so there's hope I'll have lots of top-notch fertilizer by the time planting season rolls around.
After making sure the Whirlpool Zera Food Recycler has a carbon filter installed and a plant-based additive to help the breakdown process, dump your food scraps (other than bones and pits) down the chute. In around a week, you'll have some fertilizer. Of course, it's Web-connected so you can monitor and operate it remotely.
The device will retail for $1,199, though crowdfunding backers can still grab one for $899. That seems like a lot for a composter, even a smart one, so as much as I appreciate the idea and want to be more environmentally conscious, I'm not quite sure I'm prepared to sell an arm and a leg for it.
Rating: 3 out of 5 Mulched Orange Peels
Vibration Station
I make regular trips to the movies and yet have never tried one of the 4D seats. I don't much see the point in paying an extra $5 to feel some vibrations in my seat at the theater.
It seems odd then, that I'd welcome Immersit's Vibes into my home. It's a pair of pads you place under your couch and connect to your TV or other audio source. When those bass tones and high frequencies hit, you'll feel them as the pads vibrate.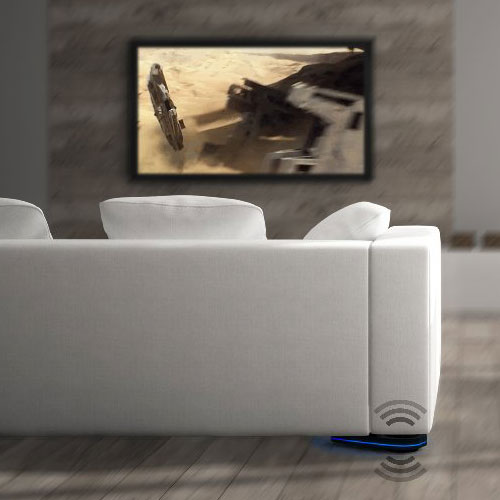 I don't especially need a little extra immersion to completely enjoy a movie, show or game. Just the experience of the thing itself is usually enough.
Then again, I do enjoy the vibration effect of my PlayStation 4 controller when it's appropriately used in a game, and I would not at all mind trying out Vibes. If I have any body parts left to offer in trade, that is.
Rating: 3 out of 5 Rumbles in the One-Bedroom Apartments