Welcome to another edition of Gadget Dreams and Nightmares, the column that discards the minnows of terrible new gadget announcements in the hopes of landing the catch of the day in the form of a world-changing gizmo.
Hooking my attention this week are a flashy ergonomic keyboard, a modular smartphone, a wide-angle virtual reality helmet, and a complex game controller.
Be advised: These are not formal reviews, nor should you take the ratings with anything less than a pinch of salt — they relate only to how much interest I have in physically trying out each.
Typing Pretty
Who said the keyboard and mouse are dead?
Here to save all our wrists — or at least those of the populace with a spare US$299 to spend on a computer accessory — is a lovely, wood-finished keyboard called "Keyboardio Model 01" (pictured above).
Taking its cue from a long history of ergonomic keyboards, the device splits an atypical keyboard in two, dedicating half the keys to each of your hands, and it's set in a gorgeous maple wood construction. The LEDs lighting up the keys are customizable and programmable, which I suppose is great if you'd like to host a mini rave for yourself while working in the middle of the night.
It's open source as well, so you can customize the setup however you like and share your customization with others.
But that facade is what I'm all about. It's utterly beautiful.
Do I need it? No. I need food, water, oxygen and shelter — but I sure as heck want it.
Rating: 5 out of 5 Butterfly Keyboards
Swap-Out Smartphone
At the heart of the modular smartphone movement gathering apace in the last couple of years is the notion of sustainability and personalization. Why throw away an otherwise perfectly fine smartphone when the screen breaks if one can quickly and easily repair it?
Joining Google's Project Ara and Phonebloks in this field is Fairphone, which just revealed its second-generation handset.
The device has decent specifications for a 2015 smartphone, with a Snapdragon 801 processor, 2 GB of RAM, 32 GB of storage, and dual SIM card slots off the bat. Only the microphones are soldered into the case, out of necessity.
Fairphone seems a little less slick than similar projects, like Phonebloks or Project Ara, and yet I feel more drawn to this than the others. Perhaps it's my inner conservationist sighing wistfully at the commitment to obtain the tin and tantalum from ethical sources.
It's possibly related to the feeling of accomplishment that screwing parts in and out would hold over sliding modules to add or remove them.
The focus is much more on replacing faulty components than on upgrading certain parts, so in that respect it falters behind those other modular smartphone projects — but I'm all for a handset that has the environment in mind.
Rating: 4 out of 5 Replaceable Droids
Reality In Widescreen
Amid the announcement of myriad new games and ways to play them at this week's E3 gaming event was yet another virtual reality headset that offers something a little different.
Starbreeze's StarVR headset has a viewing angle of 210 degrees, with two 5.5-inch Quad HD displays that have a resolution of 2560×1440.
Oculus Rift, meanwhile, restricts the field of view to 100 degrees.
When trying Oculus Rift recently, I was certainly immersed in the game world. However, I felt my field of vision was restricted, and I tilted my head far more awkwardly and in far more directions than I would have liked.
So, a virtual reality headset that allows me to see more of the virtual world at once would be most welcome. At the rate the virtual reality movement is growing, I'll need to start wearing contacts again if I've any hope of playing new games in comfort.
Rating: 4 out of 5 Displaced Equilibriums
Farming Fun?
Also in the gaming sphere this week comes news of a $299 dedicated controller — for a farming simulator game in which you're driving a tractor.
Sure enough, Saitek'sFarming Simulator has foot pedals, a steering wheel with a turn knob (for authenticity's sake), and a side panel with a loader stick, plus more than 20 programmable buttons. It's certainly more detailed than an Amiga joystick.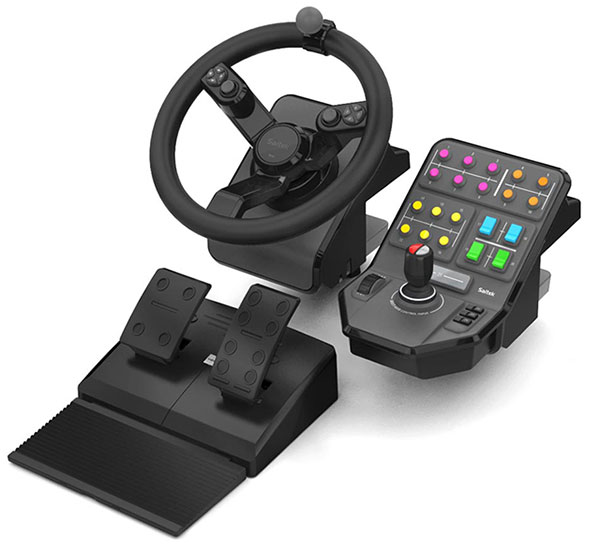 It calls to mind overly complex control systems of the past, like these that have been around for more than a decade for flight simulation games. All I know is I'd rather be flying around in a virtual jet than tending some pixellated fields and tossing feed toward virtual chickens.
Rating: 2 out of 5 Tractor Beams