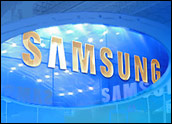 Samsung on Thursday emailed out a teaser that sparked frenzied speculation about its being a harbinger for the launch of the company's Galaxy Note II phablet.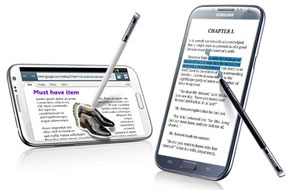 The Galaxy Note II
The email is titled "The Next Big Thing Is Here," and carries an edge-on lengthwise shot of what appears to be a Samsung Galaxy Note, with the tip of the S pen sticking out from the top.
Recipients are urged to save the date, Oct. 24, at 7 pm, and New York City is given as the venue. A formal invitation is to follow.
"I can confirm that Samsung is holding a press event on Oct. 24 at 7 pm in New York," Samsung Mobile spokesperson Makenzie Blythe told TechNewsWorld.
Specs for the Galaxy Note II
The new device has a redesigned S pen, new S pen apps, and a quad-core 1.6 GHz Exynos processor that's optimized for LTE networks.
The Galaxy Note II is the first Samsung smartphone to launch with Android 4.1, aka Jelly Bean. It's also a SAFE-designated device, meaning it's enterprise-ready.
The Galaxy Note II has a 5.5-inch HD Super Amoled touchscreen with a 16:9 aspect ratio. This screen is 0.2 inches larger than that of the Note I.
Despite having a 3,100 mAh battery that's 24 percent larger than that of its predecessor, the Note II weighs less.
The S pen has been ergonomically redesigned, and can sense 1,024 levels of pressure — four times as many as the original S pen. The S pen now has "Air View," a feature that lets users preview content in an application by holding the pen in the air above the app.
The Galaxy Note II offers multitasking, including popup windows to take notes using the S pen, and popup video.
The device also incorporates many content-sharing features introduced in the Samsung Galaxy S III. These include "Share Shot," which lets users share pictures taken with the Galaxy Note II's 8 MP camera, with other phones up to 200 feet away; "Burst Shot/Best Shot," and S Beam.
The Galaxy Note II will be available in the United States from Verizon, AT&T, Sprint, T-Mobile and U.S. Cellular, Samsung said.
Projections and Perspective
Samsung kicked off sales of the Galaxy Note II in South Korea on Tuesday, and will roll it out in 128 markets through 260 carriers. The company expects it to sell three times faster than its predecessor.
The Galaxy Note I is claimed to have sold 10 million units in nine months, half of that in the first five months.
"Those five million Notes sold over five months is the same number of iPhone 5s as Apple sold in the first weekend," Carl Howe, a research vice president at the Yankee Group, told TechNewsWorld. "RIM just reported that it sold 7.4 million BlackBerry smartphones last quarter, and RIM's a company many think is close to dead."
Nevertheless, "it's a good number for Samsung and better than most of its non-Apple competitors," Howe continued. Yankee predicts that 708 million smartphones will be sold globally in 2012.
That Old Samsung Je Ne Sais Quoi
It's difficult to figure out just where the Galaxy Note fits into the mobile device market. Other tablets equipped with styluses include the Asus Memo and the Wacom Bamboo.
"It's in a nice little niche between tablets and the 4.3-inch smartphone," Andrew Eisner, director of community and content at Retrevo, told TechNewsWorld. "If they don't get into trouble with Apple over patents, they'll be successful."
The lawsuit between Apple and Samsung may not impact sales of the Galaxy Note II much, but "the iPhone 5 and, possibly the rumored iPad mini may have a significant effect," the Yankee Group's Howe said.
The Galaxy Note II's size and price are "awkwardly in between a smartphone and a tablet," Howe remarked. "I just don't see it finding more than a small niche of consumers who will be interested in a device that tries to be both fish and fowl, regardless of its wide distribution."