Samsung launched the Galaxy S III smartphone in London on Thursday. The device will run Android Ice Cream Sandwich (ICS), version 4.0 of the mobile OS. The Galaxy S III's features include facial and voice recognition, voice command capability and eye tracking.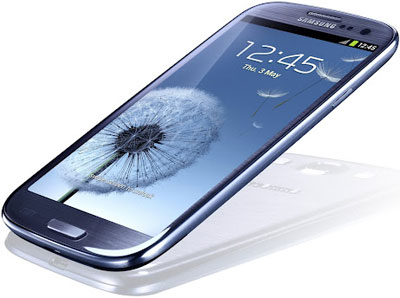 The Samsung Galaxy S III
"We believe the Galaxy S III is the most anticipated product in the 20-year history of Samsung Mobile," Blythe Makenzie, Samsung Mobile's representative, told TechNewsWorld. "We will continue to share information as it becomes available."
The Galaxy S III's Specs
The Galaxy S III has an 4.8-inch Super AMOLED 1,280 by 720 pixel screen, an 8 MP autofocus rear camera with flash and zero shutter lag, a front-facing 1.9 MP camera that records HD videos at 30 fps with zero shutter lag, and WiFi and Bluetooth 4.0 capability.
It also offers NFC, or near-field communications, which enables mobile payments and lets devices exchange data when they touch.
The S III also has an accelerometer, an RBG light, a digital compass, a barometer, a gyroscope and a proximity sensor.
Other features are Smart Stay, S Beam, Buddy Photo Share, Share Shot, AllShare Play, AllShare Cast, social and group tags, S Voice, and links to the usual Google mobile services.
Samsung Struts Its Software Stuff
The S III was designed to maximize its usability to its owner, Samsung said.
For example, Smart Stay uses eye tracking through the S III's front camera to recognize what the user's doing with the phone and adapt accordingly. If the user's reading an ebook, for example, the S III will adjust the brightness of the display accordingly.
S Voice lets the S III listen to what the user says and respond appropriately. It allows information search, lets the user communicate with the S III, and has device control features. S Voice can be used to control volume, send text messages and emails, automatically launch the camera and take a photo, organize schedules, or play songs.
The S Beam feature lets users share data quickly — a 1 GB movie file within three minutes, or a 10 MB music file within two seconds — when they touch their devices together, whether or not there's a WiFi or cellular signal. It expands the capabilities of the Android Beam, which leverages NFC to enable peer-to-peer data exchange between two devices.
AllShare Cast lets users wirelessly transfer content from the S III to their television set. AllShare Play lets users share files between the S III and the user's tablet, PC or television set regardless of the distance between the devices.
"If anything, Samsung's flexing its software muscle," Ramon Llamas, a senior analyst at IDC, told TechNewsWorld. "I think they were trying to impress all the people who are really paying close attention to design, like Apple and Nokia, rather than to the average consumer."
Keeping the ICS Flag Flying
The S III "is an evolution over previous devices, but not a huge leap forward," Carolina Milanesi, a research vice president at Gartner, told TechNewsWorld.
The device's real impact could be to boost acceptance of ICS, Michael Morgan, a senior analyst at ABI Research, suggested.
"As of now, Ice Cream Sandwich hasn't taken off that quickly," Morgan told TechNewsWorld. "Hopefully now that we have a hero device being launched, this will help increase its penetration."
Google's own statistics for the 14 days ending May 1 show that ICS has only 5 percent of the Android market.
That's partly because came out at the end of the industry cycle and we haven't seen any new devices leveraging it coming out yet, Morgan suggested. "The S III is that hot device, and it could absolutely bring Ice Cream Sandwich into play."
Google launched ICS in October.
Leveraging the Market's Timing
Samsung "has an opportunity to maximize sales between now and the launch of the iPhone 5 and still stand out among competitors such as HTC and LG," Gartner's Milanesi opined.
The new iPhone will likely be launched around October, while the Galaxy S III will be released in Europe May 29, and "that interval's a good chance for Samsung to grab market share," IDC's Llamas said.
Samsung Mobile will release a version of the Galaxy S III optimized for the fastest LTE and HSPA+ 4G networks in the United States sometime this summer, company representative Blythe said. She wouldn't be more specific about the timing and the carriers.