The Galaxy Tab Android tablet has landed. The greatly anticipated Samsung device represents what might be the greatest challenge yet to the Apple iPad's months-long dominance in the newly redefined tablet market.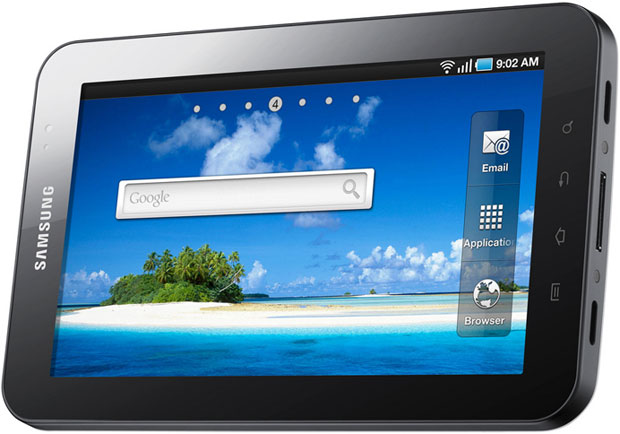 The Samsung Galaxy Tab
The Galaxy Tab is smaller and lighter than the iPad. The Galaxy has two cameras, runs Flash and offers multitasking. It's attracted attention from publishers seeking to put their content on a mobile device, and it's less expensive than the iPad.
However, it has a smaller, seven-inch screen, a measurement upon which Apple CEO Steve Jobs heaped scorn recently as being inadequate. Also, Apple's expected to provide multitasking for iPads quite soon. Other differences between the two may be addressed quite soon as well.
Is one of these devices really a better buy than the other?
Free to Choose
"It's a classic, clear-cut tradeoff analysis consumers have to conduct with themselves as to what features are important to them," Bob O'Donnell, a program vice president at IDC, told TechNewsWorld.
Consumers will have to decide whether having a smaller, lighter device is worth the lower visual quality and smaller keyboard that's harder to use, and they'll have to decide whether the price is appealing, O'Donnell pointed out.
Apple's Jobs pointed out in a speech during his company's Q4 2010 earnings call recently that electronic devices' screens are measured diagonally, and that a 7-inch screen is only 45 percent the size of a 10-inch one. Ten-inch screens are the minimum size required for best results, he said.
"Sure, screen size does make a difference, but the screen on my wife's smartphone is too small, and that's where she reads all her e-books," Michael Norris, senior analyst at Simba Information, told TechNewsWorld. "You have to put yourself in the mind of a consumer who's holding a device for the first time and sees it fits perfectly in his hand or his favorite pocketbook, it's lighter than the iPad, and has capabilities the iPad doesn't have," he added.
"So far, I do think this is the best iPad alternative to be brought to the market," Rob Enderle, principal principal at the Enderle Group, told TechNewsWorld. "The smaller screen does make it a little harder to type with, but it's still so much better than a smartphone screen that I doubt most users would care."
Neither Apple nor Samsung responded to requests for comment by press time.
Pros and Cons of the Devices
The Galaxy Tab has two cameras, while the iPad has none. However, that's not something Apple will likely ignore in its next iPad design.
"I expect Apple will add in the cameras with the first major refresh, which probably will be in August or earlier next year," Enderle said. FaceTime will also be added to the device, he predicted.
The ability to play Flash-based content is another advantage the Galaxy Tab has over the iPad. Steve Jobs has ruled out including Flash in iOS and future Apple devices for several reasons.
"Flash does and will continue to matter until developers stop using it," Maribel Lopez, founder of and principal analyst at Lopez Research, told TechNewsWorld. "It's a weakness for Apple that others like [Research In Motion] and Samsung will try to exploit," she added.
"I don't care what Apple says, there's a lot of Flash content out there and you don't realize how much until you browse the Web with an iPad," IDC's O'Donnell pointed out. "There are some interesting workarounds for the iPad and, who knows, maybe someday Apple and Adobe will come to peace. On the other hand, the Galaxy Tab apparently can't play Hulu movies, so there's a trade-off, but generally speaking, it's good to have Flash," he remarked.
Multitasking, another feature the Galaxy Tab has that the iPad lacks, will prove to be a very short-term advantage for Samsung.
"Multitasking's supposedly coming on Friday in iOS 4.2, so to me it's a non-issue," O'Donnell said. "I've seen it on the iPad and it looks pretty slick," he stated.
App Matters
Apps, or the lack of them, may constitute the most significant difference between the Galaxy Tab and the iPad.
"This is the critical issue, and it's where Apple has a huge advantage," IDC's O'Donnell opined. "Even though you can throw out a number of Android apps, none of them is optimized for the Android tablet, so you have hardly any apps at all that can work full-screen on the Galaxy tablet," he added.
However, the lack of apps may not be much of a problem for long. Publishers have begun flocking to the Samsung Galaxy Tab, and The Wall Street Journal has apparently put out a new Android app specifically tailored for the device.
Further, iPad users may not be all that strongly attracted to apps, even though there are 40,000 apps built specifically for the device in the iTunes App Store and they can run many more apps originally created for the iPhone.
"The funny thing is that iPad buyers don't buy many apps," Enderle pointed out. "On average, they purchase two to three apps, so Apple's huge number of apps may not be as much of an advantage as it seems."
The Galaxy Tab's smaller screen will also help whittle away the iPad's advantage because it provides acceptable resolution for smartphone apps, Enderle said.