Intel on Thursday announced Galileo, a microcontroller development board made jointly with open source hardware company Arduino for the education and maker markets.
Based on Intel's recently announced Quark system on a chip, the Galileo board will be available by the end of November for less than US$60, Intel spokesperson Kari Aakre told TechNewsWorld.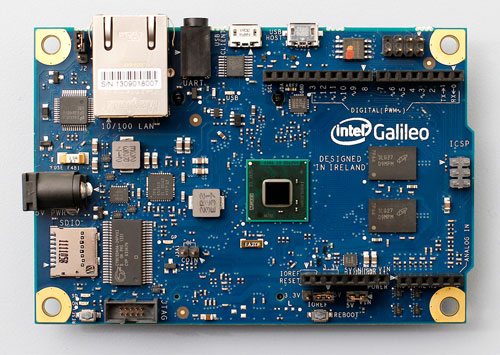 Galileo is the first in a line of Arduino-compatible development boards based on Intel architecture. (click to enlarge)
"Intel Galileo brings the power of a 400 MHz Quark CPU core to natively run the Arduino sketch application," Aakre explained. "The Quark SoC X1000 offers advanced security options and all the flexibility of a full Linux stack."
The chip giant has also donated Galileo boards to 17 universities throughout the world in a program that will involve 1,000 academic institutions over the next 18 months.
Two New Sciences
Arduino offers a single-board microcontroller whose hardware consists of an open-source hardware board designed around either an 8-bit Atmel AVR microcontroller or a 32-bit Atmel ARM processor. The software consists of a standard programming language compiler and a boot loader that executes on the microcontroller.
Connectors are exposed, letting users connect the board to interchangeable add-on modules known as shields. Some shields communicate directly with the board over pins and others can be addressed individually through an I2C serial bus so that shields can be stacked and used in parallel.
The Intel Quark SoC X1000 Application Processor, meanwhile, is a 32-bit single-core, single-thread CPU compatible with Pentium instruction set architecture operating at up to 400 MHz. It is designed for applications where lower power and a smaller size are more important than high performance.
Galileo's Tech Specs
Galileo is hardware and software pin-compatible with Arduino shields and comes with standard I/O interfaces including ACPI; PCI Express; 10/100 MB Ethernet; USB 2.0; and EHCI/OHCI USB host ports; an RS-232 serial port; programmable NOR flash; and a JTAG port for debugging.
It uses the Arduino software libraries, enabling scalability and reuse of existing software, called "sketches" by the Arduino community.
The 4.2-by-2.8-inch board is the first of a series of products Intel plans to offer jointly with Arduino. It can be programmed through Mac OS, Windows, and Linux.
Eppur Si Muove?
Intel is "trying to target the next generation of designers" with the Galileo board, Jim McGregor, principal analyst at Tirias Research, told TechNewsWorld.
Collaborating with Arduino on the Galileo board "is a good strategy" because "the maker community [are] inventive designers who typically use off-the-shelf Linux and smaller compact designer boards … and it looks like Intel's trying to take advantage of that community.
"You have to give them something that is easy to use, flexible and cheap," he added.
Intel's "strong ecosystem of commercially available systems will [let] developers … rapidly take commercial solutions to market," Aakre said.
School Days
Intel has "always worked a lot with universities and education, so it looks like they're trying to expand that in whatever way they can," McGregor surmised.
The company's program to seed universities with Galileo boards will give each institution 40 Galileo boards; an integrated development platform for Arduino on Intel architecture and a guide for getting started with Arduino on IA, both available later this year; and access to the Arduino on IA support community.
"We are already engaged with more than 500 universities supporting curriculum and research covering areas such as mobility, high-performance computing and embedded design," Intel's Aakre pointed out.
Taking Care of the Community
"We see the Arduino community at the forefront of exciting invention and design — both big and small — and through this collaboration we will ensure that this growing community has access to the latest Intel technologies, whether it's the school kid, the hobbyist or the professional designer," Aakre explained.
That's critical, too, because "if you're a one- or two-man band trying to come up with a new product, Intel or Pi or other companies may not have the bandwidth to help you," McGregor concluded, "but the community can."