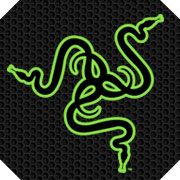 Razer's Edge is now shipping, preinstalled with Steam software, Valve's online gaming delivery and management service, which offers access to more than 2,000 titles.
"It is certainly an impressive device, one that is really an all-in-one computer with a touchscreen," said Lewis Ward, IDC research manager for gaming. "It can play the hardcore titles that gamers want to play, and in this way is much richer as a gaming machine than what the iOS or Android devices now offer."
Solid Specs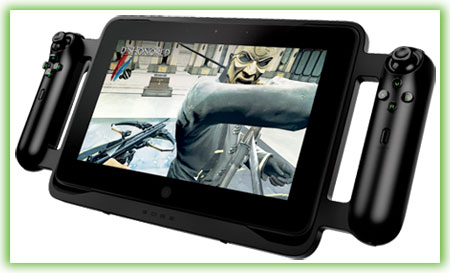 Razer Edge Pro
There is no denying that games are what the Razer Edge was conceived for, and this 10-inch Windows 8-based tablet actually features hardware that one would expect to find within a mid-range gaming laptop. It has a 1.5-GHz Intel Core i5 processor, 4 GB of RAM, an Nvidia GT 640 LE (1 GB) graphics card, and 64 GB SSD. The base system retails for $999.
Gamers can bump up the specs a bit with the Razer Edge Pro version, which offers a faster 1.9-GHz quad-core Intel Core i7 processor, 8 GB of RAM and an Nvidia GT 640 LE (2 GB) graphics card. With 128 GB of on-board storage, the unit is priced at $1,299; with 256 GB of storage, it is priced at $1,449.
In all of its configurations, the Edge offers a 10.1-inch 1366×768 display, which is about 155 pixels per inch (ppi). This is less than native full HD (1080p), but the Edge features an HDMI port, which allows games to be run on HDTV. The system can reportedly handle both 720p and 1080p output.
Touch Down
As it is a tablet, the Edge is touchscreen-friendly and thus is compatible with games that take advantage of that — such as Civilization V. The Edge features a USB 3.0 port that allows users to connect existing peripherals.
However, Razer seems to know that it could corner the market with its own add-on devices, including a gamepad that snaps onto the tablet, with a controller mounted to each side. It provides a standard gamepad interface with analog thumbsticks, action buttons, d-pad, triggers and shoulder buttons.
Razer also offers a docking station for the TV.
These accessories do increase the functionality and versatility of the system, but at an increased cost. In other words, the Edge is on the cutting edge of tablet gaming devices, but it is expensive to get there.
"As hardware, the Razer Edge is pretty sweet," said George T. Chronis, editor of DFC Dossier.
"Then again, so is the PS Vita, so well-crafted hardware isn't always the determining factor," he noted.
"In Razer's case, the Edge is directed at a pretty defined niche, so success can be had with rather modest sales compared to a Vita," Chronis told TechNewsWorld. "Right now, we see the Edge having an appeal with the same kinds of people who purchase gaming laptops: students and other nomadic young adults with access to cash."
Bringing the Gamer to Tablets
The Razer Edge could be the system that brings the hardcore gamer to the tablet.
"The market here is the non-casual gamer," said video game industry consultant Mark Lewis Baldwin of Baldwin Consulting.
"With current tablets, non-casual games have not succeeded very well. The most complex game I can think of on the iPad is Magic the Gathering," he said.
"Part of the problem has been technology, in that tablets have trouble managing the processing and graphics of non-casual games. There is also a technology issue of interface," Baldwin told TechNewsWorld. "Non-casual games call for more complex input. You need a full keyboard for World of Warcraft."
There has been a dearth of non-casual games on tablets, which in essence means that serious gamers won't embrace the technology.
"This creates a chicken and egg problem," added Baldwin.
However, Windows 8 could be the game changer, bringing more hardcore games to the tablet platform.
"Given that this is a Windows-based tablet, the opportunity to run much more intensive games is there, and the Edge supports more advanced input control than your average tablet. So there is a lot to like for that demographic," said DFC Dossier's Chronis.
"Everyone else is a wait-and-see affair. Whether the mainstream is ready for a hardcore tablet is debatable," he added. "Now, if Razer and Microsoft can think up a connection to the next Xbox console, things could get more interesting."
Tablet as Gaming Platform
For years, many game developers and publishers saw the mobile phone only as a niche product for gaming, and it wasn't really embraced until the arrival of the iPhone. Now, with iOS and Android having large install bases, the market has shifted — more and more people play games on mobile devices.
It is possible that Razer could help tablets become the next big portable gaming device — not just for casual games, but for serious hardcore games as well.
"This is what a gaming Windows 8 experience should be," said Rob Enderle, principal analyst at the Enderle Group.
"Windows 8 is a blend of PC and tablet technologies, yet you typically get it in a light tablet that lacks Windows performance, or a desktop or laptop PC that has the performance but isn't a tablet," he told TechNewsWorld.
"For gaming, you need both performance and a tablet form factor," noted Enderle, "and Razer created that in their product, which evidently sold out relatively fast — despite its relatively high purchase price."