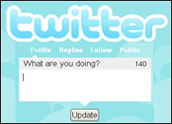 In a move that might finally open a moneymaking channel for the company, Twitter announced on Thursday that it will launch a geolocation feature as part of its microblogging service.
It will also offer a new API (application programming interface) so developers can add latitude and longitude data to any tweet.
Developers will be given early access to the API, so it will be available on third-party Twitter apps before it is available on the service, according to the Twitter blog.
However, questions have been raised regarding security issues.
About the Geolocation Feature
The geolocation feature will be set to off by default, and users will have to manually opt in, cofounder Biz Stone told TechNewsWorld, and Twitter's servers will not store any user's location-based data for very long.
Stone would not provide a precise date when the API will be released. "We'll probably make the features available to developers in the next few weeks," he said.
Gotta Make That Money
As Twitter's investors see third-party companies such as Dell make money from using Twitter, they have been pressuring the service to monetize.
For instance, Dell reportedly made about US$1 million during the 2008 holiday season by alerting Twitter followers to sales. In March, ad network Federated Media launched ExecTweets, a site that aggregates tweets from business executives, in a bid to make money from Twitter. The site is sponsored by Microsoft.
"By adding a geolocation capability to its service, this could become valuable to advertisers, which could push targeted ads to users," Julien Blin, CEO and principal analyst at JBB Research, told TechNewsWorld. "Twitter would then get paid by advertisers every time users click on ads or call a sales rep, for example."
Although Twitter has yet to start earning actual revenue, investors and other companies see its potential. Facebook reportedly bid $500 million in stock for Twitter in November but was turned down.
We Know Where You Live
Geolocation features on Twitter could prove dangerous to users.
"This feature would make the top 10 list of things a thief most wants to see on Twitter," Rob Enderle, principal analyst at Enderle Group, told TechNewsWorld. "For instance, if the feature is on because you want people to know where you are vacationing, people will also know you are away from your home and that your stuff is relatively unprotected."
Users can turn the geolocation feature back off when they want privacy, Twitter's Stone said
However, this is not enough for Enderle. "What if they forget to turn it off again later when they want privacy?" he asked. He suggested a time-out capability that would automatically turn the feature off.
Kids would be particularly at risk, Enderle said, and he suggested a parental approval option for their accounts. "Twitter could, in effect, become a predator target location service," he warned.
Exposing Twitter Users More
It's also possible that hackers might attempt to install malware that turns on the geolocation feature in a Twitter user's account without the user's knowledge.
In another scenario, hackers might distribute the geolocation feature to victims' Twitter accounts. "The functionality can potentially be put in as a Trojan and be distributed without the user's knowledge," said Randy Abrams, director of technical education at security vendor ESET.
"Personally, I wouldn't turn on the feature," he told TechNewsWorld. "But I suspect that most people who turn it on would always leave it on. There's a new generation that has no concept of privacy."
That always-on feature could lead to celebrities and public figures' accounts being compromised and their persons endangered.
President Obama was among 33 people whose Twitter accounts reportedly were hacked in January. The Obama campaign account, which had not been used since Election Day, was used by the hackers to send out an affiliate link to a survey offering participants the chance to win US$500 in gas money. That site contained malware.
"Users should have a very visible flag or regular e-mail reminder if the feature is turned on or stays on for an extended period," Enderle said.
Still, geolocation would be useful to tightly protected communities such as families, Enderle pointed out. "It could be invaluable for parents tracking their children, but they'd want to make sure this is information only they can see."