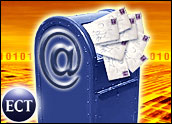 German-language spam containing right-wing messages and proclaiming disapproval with the presence of Turks and other immigrants in Germany were being received worldwide today.
The barrage began on Wednesday and initially inundated e-mail accounts of users in the United States, the Netherlands, Finland and several other countries.
MX Logic, a Denver-based anti-spam firm has identified 25 variants of the spam, some of which contain links to nationalist Web sites with names such as "Citizen's Movement" and "Resistance," that urge Germany to rid itself of its Muslim population and to oppose Turkey's attempts to join the European Union, the Washington Post reported.
Anti-Muslim Propaganda
Other varieties of the e-mail included a series of links to Web sites such the extreme right German National Party (NPD), articles from the right-oriented newspaper "Young Freedom," and an assortment of "people's initiatives" which oppose Muslims and the building of mosques in Germany.
"It's thrown at everybody, and I guess they hope to find enough Germans in their samples," said Johannes Ullrich, chief technology officer for the SANS Internet Storm Center, which monitors Internet attacks.
Ullrich also noted that this particular event was the largest of its kind he ever witnessed. "Spam is cheap but it's not that cheap," he said. "Somebody had to pay something for that."
New Level of IT Sophistication
What differentiates this latest bombardment of unwanted e-mail is a new level of technological sophistication the right-wingers seem to have implemented.
The senders appear to have made use of "spambot" — a program used to collect e-mail addresses and conceal the true address of the sender — thereby making it difficult or impossible to trace the origin of the deviant e-mail.
Analysts believe that this group of spammers likely worked with virus programmers to "seize" remote computers and utilize the e-mail addresses housed on them to build large distribution lists.
Eighty percent of the right-wing e-mails reportedly originated from a server at the University of Rostock, in northeastern Germany.
Others came from large networks owned by Deutsche Telekom and some originated in countries other than Germany. The University has taken the relevant server offline and will work with IT experts to try and track down the source of the security breach.
The e-mails contain various return addresses, ranging from the well-known hotmail.com to the Frankfurter Allgemeine Zeitung, one of Germany's most highly regarded and respected newspapers.