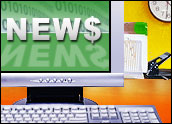 The frenzied 2016 election cycle mercifully is over, but Facebook's fake news problem isn't going away. The company may face steep fines in Germany if it fails to address it satisfactorily.
A bill slated for consideration next year would establish fines of up to $500,000 euros per day for each day that a fake news story persisted after notification of its falsehood was provided. The legislation, which has bipartisan support, would apply to other sites as well, but Facebook clearly is its main target.
Treading Lightly
Facebook recently began testing and rolling out updates to help it fight fake news.
The company "cannot become arbiters of truth ourselves, so we're approaching this problem carefully," noted VP of News Feed Adam Mosseri.
Facebook is focusing its efforts on "the worst of the worst, on the clear hoaxes spread by spammers for their own gain, and on engaging both our community and third party organizations," he said.
It is taking a four-pronged approach:
Letting users report a hoax on Facebook by clicking the upper right-hand corner of a post;
Flagging stories as disputed. Facebook is relying on third-party fact checking organizations that are signatories of Poynter's International Fact Checking Code of Principles to make those determinations;
Informed sharing — that is, giving articles that are shared less a lower ranking because that may indicate they are misleading; and
Disrupting financial incentives for spammers. Facebook is eliminating the ability to spoof domains, as well as analyzing publisher sites to see where it might need to enforce its policies.
The company initially is working with five fact-checking organizations: ABC News, the Associated Press, FactCheck.org, PolitiFact and Snopes. It might add to the pool in the future.
It is very important to solve the fake news problem, said Mark Coker, CEO of Smashwords, because "it's critical to the future of our democracy."
If our society continues to make decisions big and small based upon, or influenced by, faulty information, that will take it to a bad place, he told TechNewsWorld.
The issue is "probably best viewed on a spectrum," Coker suggested. On one end, there are the 100 percent blatantly false stories, and on the other there are true stories mixed with fake news, making it more difficult to recognize.
The Depth of the Problem
Fake news "manipulates emotions and positions which then convert into decisions [people] make in their lives that aren't in their own best interest," said Rob Enderle, principal analyst at the Enderle Group.
This "really should be considered a crime for the damage it can do," he told TechNewsWorld.
Facebook's concern is driven by self-interest, suggested Charles King, principal analyst at Pund-IT. Fake news shows how the company is being actively gamed, which damages its brand.
By serving as a repository for news stories, Facebook has "become a de facto media company" despite its insistence to the contrary, King told TechNewsWorld.
Fake news has been blamed for affecting the results of the recent presidential election, but "the mainstream media's willingness to continually chase Trump's tweets and what turned out to be bogus or frivolous stories, like the Clinton email investigation, probably had a larger impact," he added.
Will Facebook's Efforts Succeed?
Facebook's program is unlikely to succeed on its own, because "at the heart of the problem is that you can make a lot of money from Google with fake news," Enderle suggested.
"The fix really needs to start with Google's ad funding model, as they're the cause of much of the problem even though they aren't the source of the fake news," he explained.
"Macedonia, where there's massive unemployment, is making huge amounts of money just producing fake news," Enderle pointed out.
Then there's the question of how close Facebook's program might come to censorship.
"It will be very hard to differentiate between fake news and something someone just doesn't agree with," Enderle cautioned.
Where Does the Buck Stop?
Opinion among members of the public is divided, based on an online survey of 1,600 adults conducted earlier this month by Morning Consult.
Among its findings:
67 percent of respondents thought search engines were responsible for preventing exposure to fake news;
66 percent thought the reader was responsible;
63 percent say social media sites should bear the responsibility; and
56 percent thought the government should be responsible.
About one-fourth of respondents said the reader should bear the most responsibility for discriminating between real and fake stories.