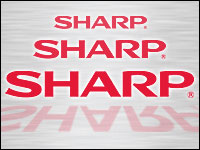 At this week's CE Week in New York City, electronics maker Sharp introduced a new, 70-inch class Ultra HDTV that the company says is the only model on the market to receive THX 4K certification.
Announced on Wednesday, the Aquos Ultra HD LED TV (LC-70UD1) is the company's first set in the new Ultra High Definition category for the U.S. market, and it offers four times the pixel resolution of current high-definition sets. That means more than eight million pixels, with a 3,840-by-2,160 resolution. This will allow larger sets in smaller spaces without the appearance of flaws in the picture or the pixels.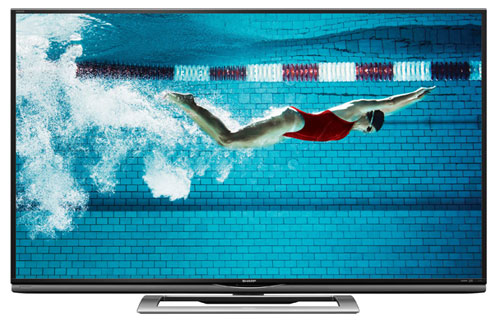 Due in stores in August, the set will also include a six-speaker sound system with separate mid-range and tweeters along with Sharp's own DuoBass dual subwoofer system. Suggested retail pricing is US$7,999.99.
Larger Screens, Falling Prices
"What we are seeing is that these sets will allow viewers to sit closer to the screen," said consumer electronics industry consultant Michael Heiss of M. Heiss Consulting. "The average couch-to-screen distance remains 10 feet, so the issue is how big of a screen you can see before you see the 'screen door' effect."
While high-definition sets allowed a move to bigger screens a decade ago, some rooms could still only accommodate larger-sized models. Ultra HD sets such as the Sharp model offer a way for those viewers without larger rooms to get in on the bigger picture.
At the same time, the sets are beginning to fall in price, but only so much for now.
"The first Ultra HD models that were introduced at this year's CES were 84 inches, so assuming the prices rises exponentially as the screen size increases, this actually explains the higher price points for these models," said Veronica Gonzalez-Thayer, an analyst for TV systems at IHS Electronics & Media. "What we are seeing are now smaller-sized, but still large Ultra HD sets.
"Sony recently introduced a 65-inch set at $7,000, so Sharp's new model at 70-inches and $8,000 is priced reasonably the same," Gonzalez-Thayer told TechNewsWorld. "Sharp is also very much offering a full-featured set that is comparable with that Sony model."
'Further Price Drops'
In fact, the price is quite in line with the industry right now, but it is still moving toward what consumers are actually willing to pay.
"In Q412, we witnessed the opening generation of UHD TVs priced above $20,000," said Linn Huang, senior research analyst for clients and displays at IDC. "Currently, we are seeing Sharp with a 70-inch offering at $8,000, Sony with a 65-inch offering at $7,000 and a 55-inch offering at $5,000," among others.
"The stark and rapid price drops have created anticipation of further stark and rapid price drops," Huang told TechNewsWorld. "However, we anticipate a flatter cost-reduction curve for UHD TVs from here on out.
"While we expect natural cost reductions due to manufacturing improvements to drive steady pricing declines from generation to generation, we do not anticipate UHD TVs to reach the low pricing levels necessary to drive mass consumer adoption in the near term," he added.
Market Trends
Sharp's new sets will also likely be more desirable in the United States and Western Europe, Gonzalez-Thayer suggested.
"These are the regions where consumers want to move to super-size screens over 60 inches," she explained. "It is in those larger screen sizes where you can see the improvement."
That's similar to the way past TV trends progressed.
"This is a series of steps, as we went from SD (standard definition) to HD even before flat panel became affordable," said Heiss. "Then we went to clunky CRT sets to flat panel, and then TVs got a little thinner."
While it was easy for consumers to see the difference between standard definition and high definition and moreover notice a thinner set in their living room, Ultra HDs' biggest selling point is that bigger picture.
'Visual Myopia'
Is the difference enough to motivate consumers to buy a new device?
"Visual myopia may impact the adoption rate of UHD TVs," said IDC's Huang. "We have heard the HD-to-UHD transition could mirror the SD-to-HD transition in speed."
Still, the visual performance improvement "from SD to even 720p will be markedly more noticeable than that of 1080p to 4K," he stressed. "Besides, the SD-to-HD transition benefited from users looking to upgrade from CRT to LCD TVs. Thus, the UHD premium is currently much larger than the value that most consumers will perceive of a UHD TV."
Sharper Looking Content
Where Sharp could have an edge in all this is that the new 70-inch model features a dual-core processor that can fine-tune the original signal while also offering an upscaler that reportedly analyzes and interpolates the content.
In other words, it makes existing 1080p HD content look even better.
This isn't entirely unique to Sharp's UHD set, but — according to Sharp — this is the first set to feature that aforementioned THX 4K certification, which remains an industry standard for image quality and consistency. The set will also offer a precalibrated THX Movie viewing mode.
"This allows Full HD 1080p images to be upconverted and look very good," Gonzalez-Thayer said.
'Likely to Be Untenable'
At the end of the day, however, it could still come down to price for most consumers.
"Current price points are likely to be untenable for the mass-consumer markets," Huang opined. "Prices will moderately decline in the near-term but will be unlikely to reach levels that will compel the average consumer to upgrade from their current 1080p sets until the surrounding ecosystem is fully developed.
"In the interim," he added, "we should continue seeing UHD TVs with large premiums targeted at early adopters and home theater enthusiasts."