Gigabyte introduced its new X11 notebook computer on Thursday, calling it the lightest notebook on Earth. Weighing in at just 975g (2.13 lbs.) and having the thickness of just 0.3cm (0.12 in.), the computer is certainly sleek. But does this weight game really even matter?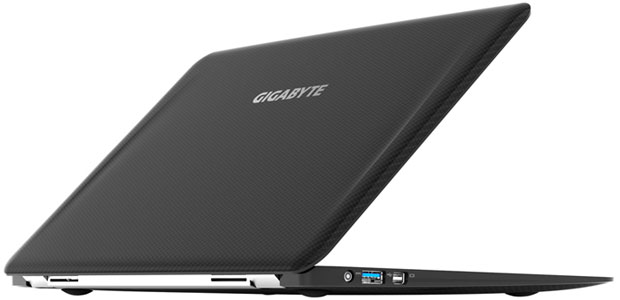 Gigabyte X11
"I don't know if [the weight] is really that much of a difference for most users," said Patrick Gray, founder and president of the Prevoyance Group. "Most users aren't going to be trekking through the Andes with this laptop in their bag. For most people, it will be taking it on a plane where a bottle of water is likely to weigh more."
However, from the marketing perspective, Gigabyte has earned bragging rights, added Gray.
"That lets them command a couple extra bucks," he told TechNewsWorld.
Gigabyte did not respond to our request to comment for this story.
Notebook or Ultrabook?
Gigabyte describes the X11 as an ultra lightweight machine, but doesn't term it an "Ultrabook." Its form factor is actually similar to that of the MacBook Air. To reduce the weight, the company utilized a full carbon fiber body, with an aluminum hinge. The use of carbon fiber was hyped as being something fairly special.
"Carbon fiber allows you to reduce the weight," added Gray, "but it isn't anything that hasn't been used for a while."
In fact, many products have sported carbon fiber casings for years — most notably Ferrari-branded laptops from Acer. Even companies such as Dell are making use of carbon fiber in laptops.
Taiwan — Gigabyte's home base — is currently the epicenter of carbon fiber production, though, for everything from bicycles to golf clubs. So, if anything, it is a material that we will likely see more of in the future. This could mean more ultra lightweight computers using it in place of traditional plastic or aluminum casings.
More Than a Netbook
Under the hood, the X11 offers a bit of computing power, including an unidentified "3rd generational Intel Core" processor (Ivy Bridge), 4 GB of DDR3 memory, 128 GB solid state hard drive, Mobile Intel HM77 Express chipset with Intel HD Graphics 4000, and 1366×768 pixel LED display. Included are a 1.3 megapixel webcam, along with Bluetooth and WiFi wireless connectivity options.
While this is a solid computer, and certainly more powerful than the average netbook, the X11isn't exactly going to be the fastest or most-robust PC. However, it could fill a void for many users, at least those considering a tablet vs. laptop.
"It is just evolutionary, not revolutionary," said Mark Baldwin of Baldwin Consulting. "It makes the form factor for those desiring netbooks a little bit better. But netbooks themselves are filling a rather limited — but real — need in the market. I doubt this will have any effect on the tablet market. It probably would have more effect on the laptop market, in that it makes netbooks a little more appealing — but even there, I think the effect would be minimum."
However, the X11 could have the right branding and the right look to draw some attention. For some, that might be enough to consider it over a tablet.
"I think this computer offers a bit of advantage over a tablet," said Gray.
However, at US$1,000 to $1,300 the X11 is a bit pricier than most tablets. That could potentially limit its audience.
"I don't think Ultrabooks will threaten tablets," said tech analyst Jeff Kagan. "They are each in their own slice of the market. Ultrabooks are one of the new segments in the space. They are hot now. The big question is will these be long lived?"