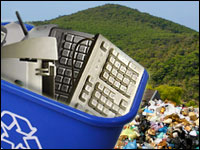 The downer in buying a new gadget is in ditching the old gizmo. The mental gymnastics set in almost immediately. Sell it? Donate it? Trash it? To make matters worse, the ditching dilemma appears to get harder to solve with every passing year.
For example, eBay, the old standby for profitable disposal of just about anything, is not a reliable option anymore.
"That worked great up until a couple years ago, when things virtually died on eBay in terms of trying to sell used items," David Papp, consultant and author of IT Survival Guide, told TechNewsWorld. "The buyers simply aren't there anymore."
As you fruitlessly wait for an eBay buyer, the irony occurs to you. The very device you lusted for a year ago — or less — is now an albatross that simply won't go away. The new device you have now will inevitably follow this same course. Indeed, the cycle is accelerating.
"Over the years, we are moving more and more towards being a disposable society," said Papp. "If something breaks or stops working, it is better to just go out there and buy the latest model."
Most consumers are at a loss as to what to do. Many end up paying recycling fees to stores and recyclers, much like one pays a used oil disposal fee after changing the car's oil, just to be rid of the piles of dinosaur devices accumulating in their homes.
"But there is no reason today to pay for recycling," Shai Atanelov, CEO and founder of Bigtime Wireless, told TechNews World. There are too many other options, he said, to default to ponying up for a disposal fee. But are there really?
The Store Option
Several brick-and-mortar stores offer electronic device recycling, but many charge a fee. It pays to shop around and see who will charge the least. Sometimes, stores will recycle for free if the device is a trade-in or was purchased from that store initially. Other times, stores will handle your digital debris for free if it is of a certain brand — regardless of where it was purchased.
"Old tech equipment, from digital cameras, PDAs and keyboards to computers, monitors and big printers — even if not purchased at Staples — can be brought to any Staples retail store for recycling," Ed Ludwigson, vice president and general manager for staples technology solutions, told TechNewsWorld. "Small items and Dell-brand computers, monitors and printers are accepted free of charge; a small fee covers other computers to ensure secure data destruction and proper disposal."
There are also a number of partnerships that function within brick-and-mortar stores. For example, NextWorth accepts old electronic devices in-store at 850 Target locations nationwide, with another 650 Target locations reportedly coming before June.
Or, you can use the free UPS shipping service via NextWorth.com. Essentially it's a trade-in program that "pays" in a prepaid Target card for the value of the trade-in, or credit toward a new purchase. If you're fine with buying something at Target, all is presumably well. Check here to see if there is a store near you. Most "trade-in" programs are only open to receiving relatively new devices that still operate well, so before you make the trip to Target, use the site to determine the value you'll receive.
Several leading electronic stores, such as Best Buy, have in-store kiosks specifically for recycling ink and toner cartridges, rechargeable batteries, wires, cords and cables. The giant electronic retailer recycles many electronic goods free of charge ranging from kitchen appliances to e-readers, TiVos, Blu-ray players, computers and gaming systems. Best Buy also recycles a variety of car electronics from radar detectors and GPS to speakers and amps — most for free.
Some mobile carriers accept old cellphones in their stores. Verizon, for example, has its HopeLine Initiative, which recycles phones and gives refurbished ones, complete with free wireless service, to victims of domestic abuse. Verizon stores typically have a collection box for exactly this purpose.
The Online Option
There are numerous options online to dispose of electronic waste, and many will pay for used devices — usually providing they're relatively new and operable. Most will require you to describe your old device — from make to condition — on an online form and receive notice of acceptance before you ship.
The good news is that the shipping is usually paid for by the service, so it's free to you. The bad news, which really isn't all that bad, is that these services generally don't pay all that much — but that still beats you having to pay to recycle the item.
Among the leading online used electronic buying services are BuyMyTronics, ReCellular, Gazelle, Flipswap and Bigtime Wireless. These tend to pay cash for your items, usually rendered by check or PayPal. Interestingly, you can even use a price comparison website such as SellCell to easily determine which service will give you the most cash for your item.
Other online services are geared more toward trade-in or trade-up programs. Verizon Wireless' trade-in program, for example, "pays" for your old cellphone with a Verizon Wireless gift card that can then be used toward the purchase of a new phone or accessory, or even to pay your Verizon Wireless bill. In other words, you are paid in Verizon goods or services.
Best Buy has a similar trade-in program for a much wider array of used electronic goods including e-readers, TiVos, Blu-ray players, computers, camcorders, iPods and gaming systems.
The Donation Option
Beyond Verizon Wireless' HopeLine Initiative, there are other charities that would like to have your old electronic devices. In fact, if your device is still operational or you have old software, just about any charity will welcome the gift to use in its offices. Most can use devices for their staff and their constituents. However, there aren't that many charities that can handle recycling or repair.
One charity that can is Goodwill Industries. Goodwill is now in partnership with Dell in a program called "Reconnect." The program has thus far kept 96 million pounds of e-waste out of landfills and created about 250 "green jobs" for people with disabilities or who need training in electronics.
Goodwill employees manage the collection and disassembly of the equipment. Donated equipment meeting the program's criteria is resold, and devices needing repair are either refurbished or broken down into parts to be recycled by Dell partners.
About a year ago, Microsoft began to heavily support Reconnect too. Goodwill now accepts PCs and computer accessories, as well as all Microsoft entertainment products including Xbox and Zune. You'll find a list of participating Goodwill locations and a complete list of qualifying productshere .
There are also a number of companies, such as PhoneRaiser, that offer electronic recycling as a fundraiser for schools and charities. Nonprofits collect cellphones and deliver them to companies like PhoneRaiser to raise cash for various charitable endeavors.
TerraCycle takes the effort much further by accepting far more electronics than just cellphones. However, the most common collections for TerraCycle programs are for cellphones, laptops, digital cameras, mp3 players and any combination thereof.
"Schools, churches and nonprofits get paid for every item sent in, and there is no shipping cost for participants, as TerraCycle covers this," George W. Chevalier III, spokesperson for TerraCycle, told TechNewsWorld. "Any items that can be refurbished are, and the rest are all disassembled and recycled, here on U.S. soil."
New Electronic Graveyards
After heavy public backlash for the disposable of hazardous electronic waste in third-world countries, most U.S. recyclers now dispose of e-waste in domestic locations, following strict safety standards. The majority of these recyclers are owned or are in partnership with the world's leading electronic producers.
Overseers such as 1800recycling.com and Electronic Recycling International have formed to remedy the problem of bad export practices that lead to a monumental global pollution problem. Electronic Recycling International is the largest e-recycling company in the U.S. 1800recycling.com is a user-friendly, free service that makes it easy for people anywhere in the U.S. to find the nearest drop-off center to recycle e-waste and other types of waste.
At the end of the day — or the spring cleaning, whichever apples — there really isn't a reason to have to pay for disposal of your electronic devices. There are simply too many ways to dispose of them responsibly — possibly profitably or wholly charitably. Enjoy your new device wickedly guilt-free!