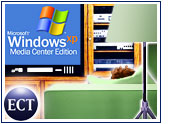 The Digital Living Network Alliance (DLNA), formerly called the Digital Home Working Group (DHWG), today announced the availability of the Home Networked Device Interoperability Guidelines 1.0. A year in the making, the Interoperability Guidelines define the design principles necessary to move content from one consumer electronics, personal computer or mobile product to another in a wired or wireless home network.
According to the organization, the name change from DHWG to DLNA reflects DLNA's collaborative role in realizing the vision of digital living. Publication of the Interoperability Guidelines marks DLNA's first major move.
"Consumers and businesses eagerly await the true digitally connected world where they can share their media content across multiple devices and multiple product brands without having to worry about infuriating compatibility problems," said Bob O'Donnell, IDC's director of personal technology.
"The efforts made by DLNA to date are very encouraging and point to a time in the very near future when the vision of a seamlessly networked digital home environment will be reality," said O'Donnel.
DLNA is led by 16 founding members, including Fujitsu, HP, Intel, IBM, Kenwood, Lenovo, Microsoft, NEC Personal Products, Nokia, Panasonic, Philips, Samsung, Sharp, Sony, STMicroelectronics and Thomson, all of whom have promoter-level status in the organization. Additionally, DLNA today announced Texas Instruments' advancement to promoter-level status.
Global Home Networking
Research reports predict that 52 percent of U.S. online households and 47 percent of European broadband households will deploy home networks by 2008. Regarding Asia Pacific, a recent study suggests that home networking will grow in proportion with the number of broadband households.
Reaching a cross-industry consensus, DLNA has defined two major components — the media server and media-rendering device — that are necessary for seamless interoperability among devices accessing a home network. These components are based on open standards such as IP, HTTP, UPnP and WiFi protocols.
The Digital Living Network Alliance uses standard specifications to encourage adoption within the consumer electronics, PC and mobile product manufacturing industries.
Interoperability Consensus
"Using a networked product to access content stored on another networked product from a different manufacturer is a consumer expectation and should be simple," said Scott Smyers, chairman of the DLNA board of directors. "In just one year, DLNA has made great progress toward reaching this goal. The Interoperability Guidelines represent a global consensus among the member companies to make this vision a reality."
The Interoperability Guidelines 1.0 specifies a set of required formats for image, audio and audio-video media classes. According to the DLNA, the first addendum to the spec will define optional media formats to broaden the guidelines' scope. For example, the use of smart remotes and mobile devices like cellular phones is targeted for future inclusion.
About DLNA
"Throughout the past year, DLNA has worked to create industry guidelines that complement Consumer Electronics Association's continuing effort to guide the home networking movement. Industry contributions like this will make interoperability a reality," said Gary Shapiro, CEO of the Consumer Electronics Association.
Founded in 2003, the group established and maintains a platform of interoperability based on open industry standards that, when used by manufacturers, will support the sharing of media through wired or wireless networks.
More than 140 multi-industry companies from around the world have joined DLNA, committing the resources necessary to achieve their vision. Additional information about the alliance, its participating companies and membership information is available at www.dlna.org.