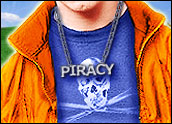 Despite aggressive tactics by U.S. agencies to crack down on illegal software warehouses, distribution of illegal software continues to rival legitimate software retail sales. Studies by industry watchdogs show that while worldwide software piracy has declined steadily from a rate of 50 percent to about 30 percent, the cost of piracy to software manufacturers remains about the same. By some estimates, that cost exceeds US$15 million per year.
Getting free or greatly discounted software is viewed by many computer users as a right. Why pay inflated prices for bug-ridden software when it is readily available through copying, swapping or downloading? Many consumers do not accept the notion that swapping software or obtaining it through underground channels is robbing another entity of his or her intellectual property.
Pirated software has existed since the early days of personal computing. In those days, the Commodore 64 and the Apple II were the pirate dream machines that followers of the fledgling hobby craved. Swapping games and utilities was often the only way to get software. That attitude has remained deeply entrenched among many computer users today.
From one perspective, dealing in illegally distributed software is an integral part of the computing experience. Stopping the practice — and changing the public notion that it's okay to commit software piracy — may prove to be as futile as Prohibition was in the 1920s.
Model for Illegal Success
When U.S. federal authorities won a four-year jail term for convicted software piracy kingpin Sean Breen last year, some computer analysts crowed that more takedowns would follow. With the jail term, "pirates beware" seemed to be the message sent to other purveyors of illegal software.
Breen was the leader of Razor 1911, a sprawling and devout network of software swappers and downloaders from around the globe. Often, network members relied on social engineering tactics also used by hackers.
They would pose as game reviewers or the editors of a new gaming magazine to get early access to code. With code in hand, a team of crackers would circumvent the copyright protection. Once cracked, the software was placed in password-protected IRC chat rooms for distribution.
"Razor 1911 was around since the early 1990s," said Scott Testa, vice president of marketing at Mindbridge Software. "It included some of the most brazen software pirates known."
Today, the Razor 1911 Web site is still accessible, but links to software warehouses are gone. The pages that remain display the history of the group.
Counterfeit Software Big Biz
Testa said the software industry worldwide continues to lose billions of dollars each year to illegal markets.
"At the end of the day, counterfeit software is big business," Testa told TechNewsWorld. "Maybe 80 percent of the trafficking occurs over the Internet."
Illegal software, a topic he pursues in his forthcoming book Mapping Security, is a huge black market worldwide, agreed Thomas Patterson, former security leader in Europe for Deloitte & Touche LLP.
The Digital Millennium Copyright Act of 1998 gave software pirate hunters new laws to help in their quest. But in comparison with the aggressive activities of U.S. agencies, Western Europe is playing catch-up in tracking down major software pirating operations, said Patterson.
"U.S. law is providing the standard and gives us a leadership position," he said. "But the rest of the world is mired in legislative confusion."
U.S. legal efforts consist of addressing two key factors. Difference of opinion among nations about what constitutes software piracy is one of those factors. The existence of different legal opinions about piracy from one country to another makes it easier for software counterfeiters to stay in business. The other factor is that copying software isn't at all illegal in some countries.
Pirates and Their Accomplices
Razor 1911 was a major underground piracy operation, but it is far from the only such illegal software network.
Organizations like Razor 1911 don't accept outside members. They have closed structures that grow their membership by invitation only, said Jerry Brady, VeriSign's chief security officer.
These software networks have been around since the start of computing and focus mostly on beta and prerelease software. They typically are caught when they expand too much, as in the case of Razor 1911.
Software swapping networks usually offer free distribution. Their members are expected to provide fresh titles in exchange for downloading existing software. These groups are so sophisticated that they control the trading process with a software system that keeps members' upload and download records in balance, Brady told TechNewsWorld.
He said about 90 percent of the software on such networks is acquired through inside corporate connections. Third-party contacts at companies that receive prerelease and beta applications often hand over copies of those programs.
Distribution Channels Abound
Studies show that about 30 percent of all software in the United States is used in violation of licensing standards. In Asia, illegal software is used on more than 90 percent of desktop computers, Edward Moran, director of product innovation for Deloitte & Touche LLP, told TechNewsWorld.
Word-of-mouth accounts for much of the information about where users can obtain pirated software. But even users who aren't savvy can find free and discounted illegal software copies by doing a simple Web search.
Just go to your favorite search engine and enter the term "warez." Dozens of locations will appear for Web sites that offer free software and licensing codes for activating that software.
Another source of counterfeit software is "abandonware," a term that refers to games and other software products that are more than five years old. Generally, these programs are no longer supported or even sold through legitimate retail outlets, so the pirate community makes them available.
Some software-swapping clubs linger quietly for years. Members gain access to downloadable files through password-only FTP sites and hidden locations on Web sites. In recent years, groups known as Home of the Underdogs, the Ring of Ages and TUOL have grown extremely popular.
Challenging the Pirates
Moran said he sees a new trend beginning that eventually could put software pirates out of business. "Tougher laws are having an impact," he noted. "But we can solve the piracy problem through the fair pricing issue."
The music industry recently proved that song downloaders are willing to pay a fair price for tunes they want to play. Paying to download individual music works, he said. That same low-cost approach could work with software.
An alternative approach is more likely to take over, though. Moran said he sees a trend toward expanding services offered by application service providers (ASPs) over the Internet.
"We will see a migration to pay-as-you-go software over the Internet," he told TechNewsWorld. Broadband connections are becoming so prevalent that always-on tethering to the Internet make such ASP software delivery quite affordable and efficient.