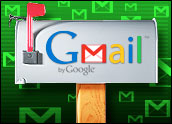 Google is making over the interface on its Gmail email service as part of a larger overhaul of the look and feel of all its offerings. The renovation project will be ongoing over the next several months, according to Chris Wiggins, creative director of digital at Google.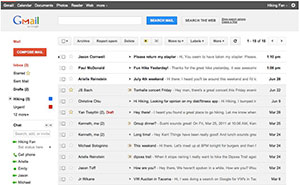 (click image to enlarge)
Google's emphasis in the redesign will be on focus, elasticity and effortlessness.
The Gmail service and Google's homepage are among the first services where the changes can be seen.
Other Google services will also be revamped, Google spokesperson Jessica Kositz told TechNewsWorld.
"I think what they're trying to do with this is open up more communications channels and make it easier for people to communicate," Tole Hart, a senior analyst at the Yankee Group, told TechNewsWorld.
Or perhaps Google's trying to make sure of its users' loyalty as it battles Apple and Microsoft for the Web's heart and mind.
"They're trying to establish and build a preference for the Google experience so people favor their products," Rob Enderle, principal analyst at the Enderle Group, remarked.
This is "positioned directly against similar efforts from Microsoft and Apple," Enderle told TechNewsWorld.
The Changes in Gmail
As of Thursday, Gmail users were offered "Preview" and "Preview (Dense)" themes in Gmail.
Google's pushing out two themes because its new interface will eventually expand dynamically to accommodate different screen sizes and user preferences, according to Jason Cornwell, Google's user experience designer.
Google Calendar will also get a new look.
The revamp of Google's services will offer a cleaner, modern look, but there will also be a few rough edges, Cornwell pointed out.
Those rough edges may rub some users the wrong way.
"I find the black bar on the top of the screen in Gmail a little disturbing," Andrew Eisner, director of community and content at Retrevo, told TechNewsWorld.
"What they've done is make users focus on the black bar," Eisner continued. He has looked into getting rid of the bar, but "Google doesn't make it easy to do that," he said.
"This looks to me like Google hired a new designer and they want to make their mark on the company," Eisner stated.
Looking at the Bigger Picture
The redesign of the Google experience may pave the way for more services, among other things.
"Down the road, Google could include a voice component where you can click on a contact's name and call them directly," the Yankee Group's Hart suggested.
"I think Google+ will be tied in to this overall effort, but for Google+ to lead, that would be the tail wagging the dog," Enderle opined. "However, Google+ is new, so we'll likely see many changes to create a common user interface first."
Google+, which was introduced in beta earlier this week, "is where the changes are being made," Hart said. "It seems Google is trying to coordinate the communications in groups and is using their strength — pulling information in from the Web to enhance these groups."
This effort is aimed at Facebook, which "really hasn't done a whole lot with communications in groups," Hart remarked.
Content Anywhere From Any Device
With the UI redesign, Google is also readying itself to enable consumes to get content from it anywhere at any time on any device.
Google's aim is to give users a consistent experience that works no matter which product or device one is using, Google's Wiggins stated.
That might herald a move to the enterprise, Retrevo's Eisner pointed out.
"Collaboration is one of the markets everyone's looking at now, and Google's working to get into the enterprise and bump up their revenue sources beyond advertising," Eisner said.
However, Google might be setting itself up for pain by going into the enterprise.
"Google may regret this move as they just aren't set up to benefit from it well," Enderle remarked.