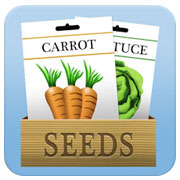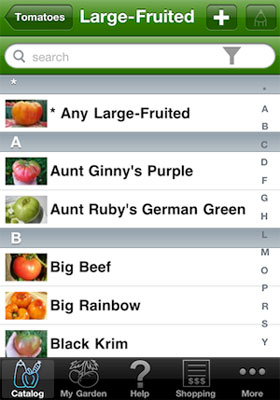 iVeggieGarden
When Leslie Sturgeon wanted to identify some brown spots on cucumber leaves in her greenhouse, she pulled out her phone and consulted the app she herself developed, iVeggieGarden. Before long, she'd identified the culprit — angular leaf spot — and could begin treating it.
"We use it ourselves as a reference," Sturgeon, owner of Moorit Software and Little Rest Farm in Brimfield, Mass., told TechNewsWorld of her app. "It's for both beginners and those with experience, and it's great to have all the information right there on your phone."
In the Gardener's Pocket
Sturgeon developed the app, which she launched in 2010, when she started looking around for a comprehensive gardening reference app. Not finding one she liked, she realized she'd have to create it herself. Now the iOS app, which sells for $9.99, has information about 80 types and 500 varieties of vegetables, as well as planting information, watering advice, and disease/pest identification tools.
The best part about it, she says, is that she can carry her phone out to the garden and access the information right there amongst the plants.
"Having all the information in one place is good," said Sturgeon. "How to start seeds, care for plants, identify disease symptoms — you can look it all up in one spot. You can have it in your pocket to look things up out in your garden."
The price, she argues, is well worth it for the amount of information the app provides.
"If you went out to purchase the equivalent in gardening reference works, it would cost much more," she said. "Given the amount of information and the convenience it offers, it's worth it."
Mother Earth Apps
Mother Earth News also offers a suite of gardening apps for every stage of gardening, from planning and planting to harvesting and canning. These include Grow Planner, When to Plant, the Garden Insects Guide, the Food Gardening Guide, and the Guide to Organic Gardening.
The Grow Planner and When to Plant apps are iOS only, and others are available in both iOS and Android versions.
Each app offers information, tips, and advice to make gardeners' efforts more successful and productive. Much of the content in the apps comes from the wealth of information gathered by the magazine's editorial department over the years.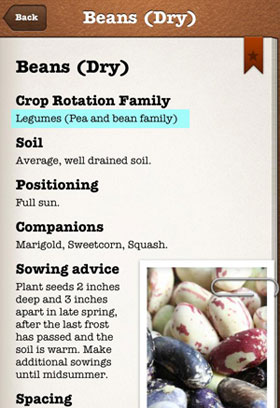 Mother Earth News
"We are a leading publisher of authoritative organic gardening advice, and we believed that some of this gardening content would be very useful to our customers in an app format," Cheryl Long, editor-in-chief of Mother Earth News, told TechNewsWorld. "Also, we wanted to explore the potential to generate new revenue via apps."
These apps provide detailed information and the convenience of being able to access it anywhere.
"Having information at their fingertips in the garden is very helpful, and the planning and record-keeping software make gardening far more efficient," said Long.
Flowering Interest
For those with an interest in flowers, there's Flower Pedia (iOS, $4.99), an app with information about thousands of blooming plants.
Including photos, common and Latin names, identifying features, and details about growing locations, the app gives gardeners a virtual encyclopedia of the flowering world. Its social networking feature also lets users tag flowers they discover and share the locations of these flowers with the app's community.
"FlowerPedia was designed to be accessible to everybody who loves flowers, from a casual enthusiast to a serious gardener," Alexey Kojevnikov, managing director of the app's developer, Muli Mobile, told TechNewsWorld. "It helps users develop and grow their passion for flowers by consolidating what would normally be several books into one neat iPhone application. The search by color feature is particularly useful to find a flower for a particular part of the garden."
The app appeals both to serious gardeners and to armchair ones who just enjoy researching the field of flowers.
"Some gardeners I know would rather be gardening than reading books about gardening, but many do enjoy the educational aspect of their hobby," said Kojevnikov. "This is where FlowerPedia shines because it contains a huge worldwide database of flowers from Australia to Zimbabwe that would normally fit into a shelf full of books. Many of our users spend most of their time in the app just looking at photos."