Last week was a busy week that seemed to be filled with crazy people — some in a good way, most not so much. The most annoying story was that Cisco, which currently has market share leadership in digital cameras with the Flip, is shutting down this half-billion-dollar acquisition after screwing it up.
On a positive note, Microsoft surprised us at its MIX conference with Windows 8 running on ARM and an IE 10 prototype on steroids that made the new Chrome browser beta look obsolete. Speaking of Google, not only did its earnings disappoint, but it is now being blamed for destroying Britain's film and music industries and ripping off Steve Jobs.
And if that weren't enough, the RIM PlayBook made its debut while RIM's CEO acted out (there is one company that desperately needs new leadership).
I'll cover all of this and close with my product of the week: a house of the future that comes close to what I think Apple might build if it built houses and you could buy one. This is probably my most expensive product of the week so far.
Flip Flop
"How to kill a great product in three easy steps" is a book that Cisco could now write. To recap: Cisco rightly saw that one of the best new frontiers for networking was the home, and it bought Linksys, the market leader in home and small business networking products. So far, so good. But then it actually thought it understood consumer products, looked at Sonos, and decided it could do better. It built its own offerings, which had to be the hardest things I've ever had to set up, and they didn't sell well.
Instead of fixing the problems, Cisco bought the company that made the very successful Flip camera and put its leadership in charge of the consumer business. In essence, it screwed up with a home music/media platform because of poor networking ease of use and then it put guys who were experts on inexpensive cameras in charge of fixing that problem. That's like coming home to find your roof leaks and concluding you need a car mechanic.
The camera guys, who were one-trick experts, decided the solution was to build more-expensive cameras, and the Flip, which sold very well under $100, got bigger brothers that sold in the $200 to $300 range against real cameras from companies like Sony, Panasonic, Casio, Canon and Nikon.
It shouldn't have taken a rocket scientist to figure out how that was going to turn out, and the Flip is gone, at just about the time it was going to bring out a product that could have saved it. Now that's just sad, and Cisco never did fix the home entertainment line. Oh, and now Cisco needs a turnaround plan. Ya think?
Microsoft Kicks It Up a Notch
On the positive side, Microsoft had its MIX conference last week and surprised us all with IE 10 running on Windows 8. That wasn't the big surprise, though. After spending an hour showcasing that its beta could kick the Google Chrome beta's butt, Microsoft surprised us all by revealing that it did its demo on Nvidia's Tegra platform. We won't get a clear view of Windows 8 until Microsoft's PDC later in the year — but boy, if there ever was a shot across the bow of the x86 vendors, this was it.
Competition is good, though, and this will undoubtedly provide us with thinner laptops and more power-efficient desktops by the end of 2012. The only question is what will be on or under those PCs? Microsoft is moving to make sure it is Windows. Hey — competition remains a good thing, because they will be cool regardless.
Google Putting the 'E' in Evil
In the new book on Google called In the Plex, Google looks like a company that rather than doing no evil, took it as a badge of honor. I swear, it should get a big fluffy cat and rename the company Spectre, and at least then it would get a decent acronym.
From deceptive privacy practices — as in it was swiping folks' personal information — to attempts to cover up political donations, to claims it misrepresented products to government buyers, this company really has been on a roll. Oh, and don't forget its ex-CEO may be up for Secretary of Commerce. Just what we need in Washington — another guy who thinks our stuff is there for the taking and likes covering things up. At least he'll feel at home.
Google has new leadership now, and here is hoping the company rediscovers some ethics and proves it is more than a one-trick pony whose only other skill is creating cheap knockoffs of products like the iPod and iPad, which it then has to give away for free.
Products like the Motorola Atrix showcase that Google could really create something different than either Apple or Microsoft, but it won't put the effort into it, and a lot of partners are paying the price. Maybe Google's tagline should be "Google — We make Microsoft and Apple Look Good by Comparison." At least Google isn't being chased down the street by people with pitchforks. Oh wait…
RIM: Looking for New Leadership in All the Wrong Places
I actually liked the idea of the Palm Foleo, an interesting product that was aborted in 2007 in order to create the failed Palm Pre. The Foleo, which was also somewhat similar to the new Motorola Atrix, was a laptop-like accessory for its once-popular Treo phone, created by Palm's legendary founder Jeff Hawkins.
The PlayBook is basically a tablet version of the Foleo, but it arrives after the market has become entranced with the iPad, which is a stand-alone device. Yes, like the Foleo, the PlayBook isn't fully functional without a BlackBerry phone attached to it.
RIM came up with the brilliant idea to run android apps on it, but unfortunately it missed the meeting where we discovered that many Android apps are malware infected, and the apps the PlayBook will run are the phone apps, not the tablet apps. At one time, RIM was known for security. Now, when asked about, its CEO walks out of the interview. That's just nuts.
Wrapping Up
Google has a new CEO, and the hope is it will become a better corporate citizen before it gets regulated or fined out of existence. Windows 8 and IE 10 look great, but they are really 2012 events, and that is a long way away. In the meantime, we get to watch both RIM and Cisco crash and burn. Good news for Steve Ballmer: He actually looks rather good at the moment — no affairs, Microsoft is hitting its numbers, it isn't being accused of bad behavior, and it hasn't released a really stupid product in several years.
Microsoft is trending to be on top again — though I doubt anyone expected it would — largely because the other tech giants self-destructed. With the iPhone 5 likely delayed, I'm getting kind of worried. Obi Wan Jobs, you're our only hope… . Oh, and let's all pray that Darth Schmidt doesn't do to the U.S. what he did to Sun and Novell. We have enough difficulties at the moment, thank you very much.
Product of the Week: The Almost iHouse by Blu Homes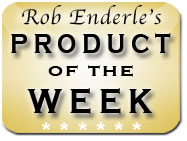 If there is one area I think has really fallen behind the times, it is home building. If you search on "House of Tomorrow," you'll likely find the 1933 Century of Progress Exposition, and those houses aren't that much different than what we have today. Except they had things like airplane hangars, and we clearly do not.
My favorite, however, was the 1957 Disney House of the Future, and in a world of earthquakes and natural disasters, I still remember when they tried to tear it down and the wrecking ball just bounced off the side. I've often thought we needed someone like Disney or Apple's Jonathan Ive to design a home for this century, and I may have found something close.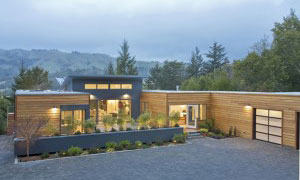 BluHomes Breezehouse
The homes by BluHomes are prefabricated steel-framed structures designed to take earthquakes and hurricane- force winds. They aren't cheap — US$500,000 for about 2,200 sq. ft., and they are built in a factory much like an iPad or an expensive luxury car and then shipped to the site for assembly, which takes about four days.
They are very green, with high use of recycled and recyclable materials, water- heated radiant floors, and Nano walls with movable shades. They are a little too Swedish modern for me, and I think they should drift more to the German contemporary lines of the iPad or Porsche, for my taste — a direction that Ive would likely take the products. They do kind of need stronger media and a bit more tech in them to become a true Apple-like product, but they are closer than anything else I have yet seen to a home of the future for this decade. Because I think all homes should be built this way, the BluHomes line is my product of the week.