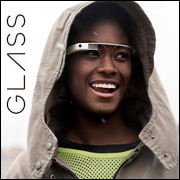 Google Glass will soon allow users to hear as well as see through the augmented-reality eyewear thanks to new audio capabilities the company announced on Tuesday.
A new set of features will allow users to scan playlists, search for songs and — with the addition of stereo earbuds, also due in the coming weeks from Google — listen to music in high-fidelity audio through Google Play.
The upcoming new earbuds, designed specifically for Glass, are lightweight and designed to provide full-range audio while still letting users hear their surroundings, Google said. Priced at US$85, according to a report in The New York Times, the earbuds will be customizable with five interchangeable color caps.
Revisiting Glass
Google Glass has already been equipped with a bone-conduction speaker system, and a removable mono headphone is also available.
"The earbuds addition is a decision to revisit design," Chris Silva, principal analyst at High Rock Strategy, told TechNewsWorld. "The bone-conduction speaker, in my experience and in the experience of others anecdotally, was nearly unusable with any sort of background noise or interference."
The new earbuds "seem a necessary addition to provide a less 'beta' experience for users, especially as native Google services, like music, are rolled out," Silva added.
A World of One's Own
Google Glass has already staked its claim on at least part of the wearer's visual attention; now, with the added ability to receive audio, one can only wonder how much of the user's attention will be left for the real world.
"There is a danger of people withdrawing into their own little worlds, even more than they do now," Roger Kay, principal analyst for Endpoint Technologies Associates, told TechNewsWorld.
Years ago, "The New Yorker had a cartoon of a squirrel walking along with headphones and eyes mostly closed," Kay recounted. "A hawk is swooping down from above. I think those stories, parables, metaphors are apt to this situation."
Indeed, "people already have that problem," noted Jim McGregor, principal analyst at Tirias Research. "At least looking through the glass, people should have better perception than looking down at a small screen."
There could be an issue with Glass use and liability in accidents, "but you have to expect those issues," McGregor told TechNewsWorld. "What this represents is an evolution of the technology to be more natural and integrated into everyday life."
'A Complete Experience'
In fact, there may not be any greater concern with Glass today than with other consumer electronics devices, McGregor added.
"This is really providing a complete experience," he suggested. "People can determine what they focus on in terms of vision and hearing. People essentially do this today with their smartphones and headsets. Those that don't do it well end up in water hazards and YouTube videos."
However, such cautionary tales could just as easily include a person looking at a map or directions written on a piece of paper. Like those examples, the immersing quality of Google Glass is also not one that will completely block out the entire world.
"Visually, Glass is not as immersive as folks tend to think, and I still believe the intent is for the wearer to use the screen hovering above their eye as an augmentation to their surroundings" rather than an immersive experience that distracts or removes them from their surroundings, added Silva.
"This really is providing a more complete and natural experience," McGregor concluded. "However, there are times when the use of the solutions may not be appropriate, such as when driving."