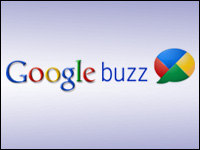 Google's launch of Buzz on Tuesday, widely seen as an attempt to outdo Facebook, succeeded all right — in the way it ran roughshod over users' privacy. The sheer volume of complaints over this issue forced Google to tweak privacy controls for Buzz users.
Why is it that while Google was building Buzz, it didn't bear in mind the repeated run-ins Facebook has had with its users over privacy concerns?
Perhaps we can chalk this up to the mindset of the Google leadership, which apparently thinks privacy is passe — so long as it applies to other people. In December, Google CEO Eric Schmidt famously dismissed the notion of online privacy during an interview with Maria Bartiromo for a CNBC special on the Internet giant. "If you have something that you don't want anyone to know, maybe you shouldn't be doing it in the first place," he said.
Schmidt, of course, is the man who reportedly turned his back on Cnet for a year for publishing information about him that the news source gleaned from Google searches.
Or could Google's lack of attention to privacy be just plain old Facebook envy? At the Crunchies Awards in San Francisco last month, Facebook cofounder and CEO Mark Zuckerberg airily dismissed the notion of online privacy, telling an interviewer that people have gotten comfortable sharing more and different kinds of information more openly with more people. This, Zuckerberg said, is the new social norm.
Google and Privacy
In a way, Google seems to take the same approach to defining privacy as a certain finger-wagging president did to the definition of the word "is," or Humpty Dumpty in Through the Looking Glass, who told Alice that words mean what we choose them to mean.
Take, for example, Google's response to queries about its Social Search feature, which pulls publicly available content put on the Web by your contacts into your search results on any topic. Essentially, Google said it's a case of caveat emptor — let the buyer beware.
"Giving our users choice and control over their information is important to us," Google spokesperson Victoria Katsarou told TechNewsWorld. "In this case, we responded immediately to people's feedback and made product improvements to address their concerns."
Indeed. It's difficult to ignore people's concerns after a media firestorm erupts and you get more than 9 million posts and comments, according to Google's Gmail blog.
"There's been concern from some people who thought their contacts were being made public without their knowledge," Todd Jackson, product manager for Gmail and Google Buzz wrote. "In addition, others felt they had too little control over who could follow them and were upset that they lacked the ability to block people who didn't yet have public profiles from following them."
Caring but Sharing
So, if Google cares so much about giving users choice and control over their information, why did it mess up with the privacy settings on Buzz? Among other things, Buzz publicly shares details of users' contacts. Its blocking feature also was, to put it charitably, strange — users could block people with a Google profile who tried to follow them but could not block those without a Google profile. That's a recipe for stalkers if ever there was one.
Following the barrage of complaints, Google has tweaked Buzz so users can now opt out of publicly sharing lists of people following them or whom they are following. They can now also block anyone whether or not those people have created Google profiles for themselves.
"We look forward to hearing more suggestions and will continue to improve the Buzz experience with user transparency and control top of mind," Jackson wrote.
Feels So Right but It's So Wrong
A kinder view of Google's problems with privacy in Buzz could be that the whole field of social networking and live connections is too complex to resolve on the first try. "It's hard to get social networking settings right," Carl Howe, director of anywhere research at the Yankee Group, pointed out.
Some people don't mind having lots of followers, while others do, for example, Howe told TechNewsWorld. "Those decisions about who you can and can't block and who ends up following you are decisions that are hard to get right."
Perhaps the problem is also due to Google's willingness to throw everything out into the public forum to leverage the wisdom of the crowd in the hope that this would help solve any issues that arise. "In Google's inimitable way, they decided to slap a beta on Buzz," Howe said.
The problem with this approach is that Google already has amassed lots of information about people, so it needs to be very careful what information it provides public access to. "Google has a lot of information about people, far more than Facebook does," Howe said. "I don't think they realized that."
Perhaps not before, but Google's executives are probably beginning to realize it now. The question is, will they learn from this furor around Buzz, or will they try to continue shaping the world according to their vision?
---
TechNewsWorld writer
Richard Adhikari
loves technology but is concerned about its effect on society as a whole. His gods include
Blish
,
Tiptree
and
Heinlein
.