The National Alliance on Mental Illness on Wednesday announced that Google on mobile now provides people who search for the term "clinical depression" with a direct link to the PHQ-9 questionnaire used by medical professionals in the United States to evaluate patients for the disorder.
People can conduct a self-assessment by filling in the questionnaire online.
When someone conducts a Google search on mobile for information on "clinical depression," a link to "check if you're clinically depressed" will appear in the depression knowledge panel.
Clicking on the link will take the user to the PHQ-9 questionnaire.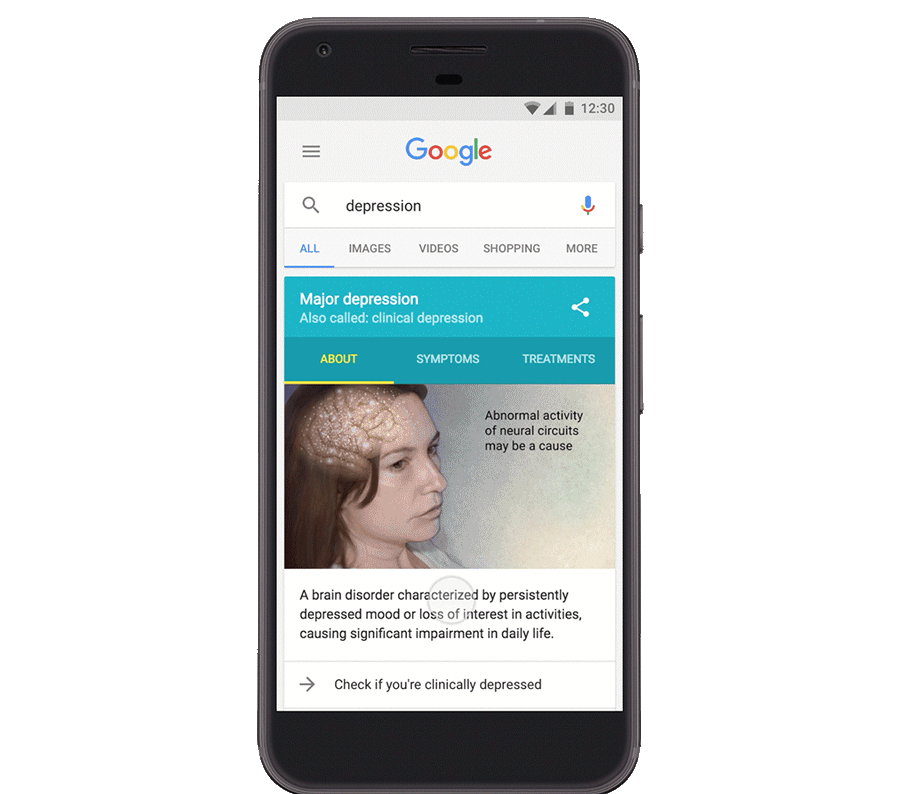 NAMI hopes teaming up with Google will help raise awareness of clinical depression and lead sufferers to determine their level of depression and the need to seek help, said Mary Giliberti, the organization's CEO.
Clinical depression is a treatable condition, and the PHQ-9 can be the first step to getting a proper diagnosis, she noted.
Noble Effort
One in five Americans experience an episode of clinical depression in their lifetime, but only about half the sufferers receive treatment, Giliberti pointed out, and generally only after six to eight years.
"By making PHQ-9 easily accessible in the Clinical Depression Knowledge Panel, we hope that will help provide useful and insightful information to spur deeper research on the Web or to help you have more in-depth conversations with your doctor," said Google spokesperson Susan Cadrecha.
"The effort is noble, though I'd feel better if this project was managed by someone other than Google, with the appropriate medical background, oversight and protections, such as a major hospital," remarked Rob Enderle, principal analyst at the Enderle Group.
Privacy Questions
Because Google stores user data, there may be legitimate concerns that information entered into the PHQ-9 form would be retained.
"The privacy and security of our users is of the utmost importance," Google's Cadrecha told TechNewsWorld.
"We recognize that this information is sensitive and private, and Google will not store your responses or your results," she said.
"This speaks to trust, and whether management actually knows what the engineers who have set this up actually did," Enderle told TechNewsWorld.
"In the past, Google has been lax with regard to oversight," he added, so concerns about data retention are reasonable, "even though it clearly isn't an executive intent."
Google parent Alphabet already collects some data on consumers' health.
Its Verily Life Sciences division, formerly Google Life Sciences, in 2014 launched Project Baseline, which seeks to collect phenotypic health data from about 10,000 participants over four years.
The project will make de-identified data from the study available to qualified researchers for exploratory analysis.
Google Is Watching You?
"Google sees everything that moves through their portal," said Michael Jude, a research manager at Stratecast/Frost & Sullivan.
"At some level, everything's stored for some period of time," he told TechNewsWorld.
Google is "asking us to trust them not to store anything long term," Jude added. "However, the act of seeing this data lets it build profiles of users."
The company "probably already can build a psychological profile of its users from their searches and other user data," he speculated. "If a profile leaked, they could claim that it was simply from publicly disclosed data. How could anyone prove otherwise?"