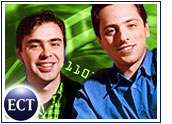 Google, operator of the most popular search engine on the Internet, tried to avoid fanfare when it quietly notified some 150,000 advertisers through e-mail that it was modifying its policy on selling keywords that contained trademarked material. Instead, it's ignited a controversy.
Speaking on the policy change, Barry G. Felder, a partner with New York City law firm Brown Raysman Millstein Felder & Steiner LLP, told TechNewsWorld, "It will open them up to lawsuits, if not as a direct infringer, then as a contributory infringer."
The new policy — which applies only to the United States and Canada — allows advertisers to buy trademarked terms as keywords that trigger placement of text ads on a page of search results.
Cause of Confusion
"The likely reason that many entities want to purchase another entity's trademark as a keyword is to cause confusion as to the source of sponsorship of the goods that they're selling," said Felder, who was the lead attorney in a trademark infringement case about online advertising that Playboy Enterprises won over Netscape.
Although the new policy allows advertisers to buy trademarked keywords, it doesn't allow them to use those words in their text ads. If Google, upon complaint from a trademark owner, discovers a policy violation, it "will require the advertiser to remove the trademarked term from the text of the ad and prevent the advertiser from using the trademarked term in ad text in the future," according to the company's complaint procedure posted at its Web site.
"The standard in the U.S. for trademark infringement is likelihood of confusion, and we just don't believe users are likely to be confused unless there is something in the ad text that is causing that confusion," Google senior trademark counsel Rose Hagan told TechNewsWorld.
Better Balance
"Users aren't going to be confused with seeing ads, unless there's something in the ad that confuses them," she added. "That's why we thought it was appropriate to focus on the use of the trademark in the ad text."
Unlike the Playboy case, which involved unlabeled banner advertising, Google's policy affects only text ads, Hagan noted. "The text ads are clearly labeled as sponsored links and are not likely to cause confusion," she said.
In adopting the new policy, Google aims to strike a better balance between the interests of consumers, advertisers and trademark owners, according to Hagan. "We thought our prior trademark policy was going to meet that goal," she said. "As time went along, we began to see that under that policy, things were a little out of balance, and we wanted to give our users more choices and the ability to see more information."
That balance Google is seeking, though, may have litigious consequences. "By completely opening up the ability of any party to buy another's trademark," Felder maintained, "there's a scenario that's being created which is rife with the potential for trademark abuse and, consequently, trademark liability, either in a direct or contributory nature."
Trademark Police
In the complaint policy posted at its Web site, Google notes, "As a provider of space for advertisements, please note that Google is not in a position to arbitrate trademark disputes between the advertisers and trademark owners." The new policy appears to be a move by Google away from those kinds of entanglements, according to Chris Winfield, president of 10e20, a Web design and marketing firm in New York City.
"They're saying, 'We're not in the market of policing or resolving trademark disputes,'" he told TechNewsWorld. "Anyone can bid on any terms, and if there's a dispute it should be taken up between the trademark owner and the infringer."
All or Nothing at All
"If they monitor some keywords for compliance, then they have to monitor all keywords for compliance," he added. "By doing that, they're liable for the ones that they miss. If they don't monitor keywords at all, then they're off the hook, and the liability falls on the advertisers."
But Google may not be able to sidestep its responsibilities to trademark holders that easily. "I don't think the trademark owners' rights in their intellectual property justify the abandonment of any kind of screening," Felder observed.