Google launched its Nexus 7 tablet on Wednesday at its Google I/O developers conference in San Francisco.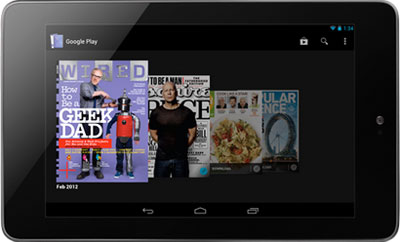 The Google Nexus 7 tablet
The tablet, which is made by Asus, has a 1,280 x 800 display. It has an Nvidia Tegra 3 quad-core CPU with that processor's associated 12-core GPU.
The Nexus tablet 7 has a front-facing camera and supports WiFi, Bluetooth and near-field communications (NFC). It also has a gyroscope.
Nexus 7 tablets run Jelly Bean, or Android 4.1. They weigh 340 gm. They offer up to 9 hours of HD video playback and 300 hours of standby on a single charge.
Of Pricing and Heart Attacks
The Nexus 7 tablet is priced at US$200, with a $25 credit for the Google Play Store. It can be ordered from Google Play now. Orders ship in mid-July.
"I just got the specs on the tablet," Michael Morgan, a senior analyst at ABI Research, told TechNewsWorld. "I bet Amazon's heart just stopped and its Fire just fizzled. I also wonder if Apple will be able to retain its price points with this on the market."
New iPads are priced starting at $500.
It's Not About Winning, It's About Fun
The Nexus 7 tablet is pretty much made for Google Play. The device is made to handle apps, videos, books and music, in addition to TV shows. Turning it on puts content from the Google Play Store up on the screen, and Google demoed two games, "Horn" and "Dead Trigger" at the launch.
Nexus 7 owners can either stream TV shows or download them. Google has struck deals with various content providers, including Disney, Paramount, NBC and ABC. Owners of the tablet can now purchase movies on Google Play
Magazines on the Nexus 7 can be streamlined to show just the text and pictures. They will have interactive features so users can click a story on the title to open it up. Some magazines have a 14-day free trial period.
The Nexus 7 has a song widget that identifies the tunes users play and provide links to the Google Play store to download the songs. It also has a self-learning recommendations engine that recommends content based on what users have accessed previously. Its recommendations get better over time.
Appraising the Nexus 7
"At 7 inches and a $200 price point, [the Nexus 7] is making a value play for the core of where the iPad currently is," Rob Enderle, principal analyst at the Enderle Group, told TechNewsWorld. "Google is betting that a lot of folks are happier with their laptops for creation and would rather have a device that was focused on consumption, particularly if it was priced closer to a portable DVD player."
The Nexus 7 has "good performance specs and a good and reasonable price point, but I believe 3G and 4G capability will be a requirement and an early differentiator," Jim McGregor, principal analyst at Tirias Research, told TechNewsWorld.
"My initial thoughts are, good specs, should be good build quality knowing Asus, and good price," Peter King, a director at Strategy Analytics, remarked.
Taking On Amazon
It looks as if Amazon is currently in Google's cross-hairs.
The Nexus 7's recommendation engine "could turn this tablet into a portal for online purchases, very similar to Amazon's approach with its Kindle Fire," Enderle said. "This could provide a significant additional revenue opportunity for [Google]."
There will be "no impact on iPad or [the Microsoft] Surface tablet, but Amazon might have a few sleepless nights," Strategy Analytics' King told TechNewsWorld.
However, Amazon might have the upper hand because it has the content, and, in the tablet world, content is king.
The Nexus 7 "is just another shiny new device," Tirias Research's McGregor said. "It does look like other tablets, and the difference will lie in the entire solution, especially the services and content."