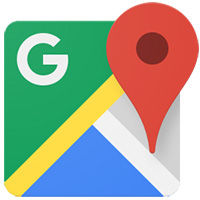 Google on Tuesday began rolling out an offline mode for Google Maps.
Users can download a regional map — say, a city, county or country — either by tapping "download" on a search result or by going to "Offline Areas" in the Google Maps menu and tapping on the "+" button.
The downloaded map will function in offline mode automatically when the user enters an area with poor or no connectivity, and it will switch back online when a connection becomes available.
By default, downloads will be triggered only when users are on a WiFi network.
Google Maps will attempt to update offline maps automatically after 15 days, when a user's phone is connected to a power source and WiFi service is available, said spokesperson Mara Harris.
If a user's phone isn't connected to power or WiFi isn't available, Google Maps will try again the following day. If the map's not updated, it will expire after 30 days.
"We've set it this way because Google Maps is constantly changing," Harris told TechNewsWorld. "We add new data all the time, including road changes, new businesses and closures, and we want to ensure our users can search and navigate with confidence."
The feature currently is available on Google Maps in the "Your Places" menu under the heading "Offline areas," with a lightning bolt icon on the left.
How the Rollout Will Go
Google is rolling out the new feature to more than 200 countries, Harris said, including the United States, the UK, Brazil, India, Russia, Mexico and Indonesia. The rollout will proceed over the next couple of weeks.
Offline maps will cover both cities and rural areas.
"One limitation mobile navigation apps have had compared to in-car systems is dead spots in connectivity," noted Derek Vitta, senior analyst for in-vehicle user experiences at Strategy Analytics. "This issue is especially prominent in rural areas."
Cached maps "eliminate this issue and could put mobile navigation apps on a completely level playing field," Vitta told TechNewsWorld.
The latest version of Google Maps on Android will include the new feature. An iOS version will come later.
What Users Can Do
The offline feature will give users turn-by-turn directions and useful information about places such as hours of operation, contact information and ratings.
"This is all seamless," Harris pointed out. "No need to toggle between online and offline modes."
The only difference between offline and online maps will be the real-time coverage provided by the latter.
"What took them so long?" asked Jim McGregor, principal analyst at Tirias Research.
Been There, Done That
It's been possible for some time now to use Google Maps offline by downloading a desired location, although the cached map will disappear after 30 days.
Several other companies offer offline maps on Google Play.
Psyberia's Google Play offerings include all-in-one offline maps based on Google, Yahoo and Bing maps, as well as topological maps for various countries.
Apple's iOS 6 maps let users cache large areas for offline browsing and GPS navigation. They include detailed street-level maps in 3D perspective, as well as basic satellite images and major city labels worldwide.
Several GPS apps — including those from Sygic, Navmii and CoPilot, also offer offline capabilities, for a fee.
What's Missing
"It would be great if Google Maps had a feature I could set so it would recache my maps every so often or ask me if I wanted to recache my maps," Tirias' McGregor told TechNewsWorld.
This is important "not only for handsets," he said, "but also for vehicles, especially autonomous vehicles, which are going to need constant updates because they won't have enough memory to store every map and all the road changes and traffic patterns."