A new version of Google Maps for the iPhone and iPad hit the App Store Tuesday. Added to the app's repertoire is the ability to notify a driver when a faster alternative route is available.
When Google Maps' navigation feature is running, traffic conditions will be monitored by the app. When it determines that an alternative route can get you to your destination faster, it will notify you, display how much time you can save, and offer you the option of changing your route.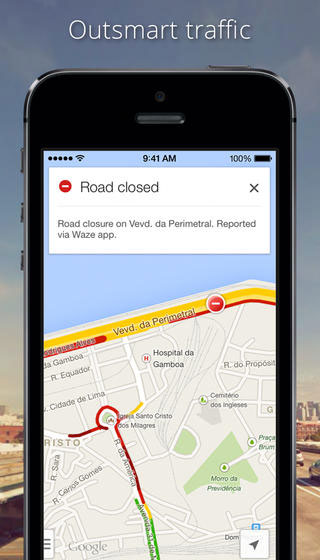 Google Maps previously displayed several routes to choose from at the start of a trip, but it stopped monitoring alternatives once the driver made a selection.
The faster-route feature has been available for some time on the Android version of Google Maps. The additional functionality may be thanks to the incorporation of Waze technology, but Google would not confirm that to TechNewsWorld.
Google purchased the crowdsourcing traffic app Waze for an estimated US$1.3 billion last year. Waze has remained independent, but Google has been tapping into the company's tech to improve its maps products.
For example, Google has incorporated Waze traffic reports, which display events such as accidents and road closures, into its desktop and mobile apps map products.
Right Waze
With this update, Google continues to distinguish its maps functionality from Apple's native maps offering.
"Waze is a premiere navigation product and as its features are brought into Google Maps, it will improve that product significantly," said Rob Enderle, president and principal analyst with the Enderle Group.
"That will make it hard for Apple or anyone else to keep up," he told TechNewsWorld.
"Waze's social feature and its very loyal customer base allow it to have high-quality and current information about everything going on around you — from traffic cops to accidents and suggested reroutes," Enderle said.
"As long as Google doesn't break Waze, Maps will continue to advance," he continued, "but at some point, it may try to merge the two offerings — and if it does that, it may pull the plug on their competitive advantage."
Google Maps has another advantage over Apple Maps, which has been recovering from its disastrous launch in 2012. The Google product spans both mobile and desktop products.
"The fact that it's captured multiple endpoints really helps Google for sure," said Gartner Vice President for Mobile Computing Ken Dulaney.
"Apple is in catch-up mode here, and we'll have to see how quickly it catches up," he told TechNewsWorld.
"Google Maps is on the iPhone," he continued. "If you don't like Apple's maps, you can use Google's. There's no downside there for user expectations, so it shouldn't affect the choice between buying an Android or iPhone."
Native Advantage
Nevertheless, Apple still controls the operating system for its smartphone, which means it can give its apps an edge over others on its devices.
"When you do any default location functions on the iPhone, Apple Maps is triggered, and that's driven a lot of usage," explained Opus Research Analyst Greg Sterling.
"You have to make a special effort to get Google Maps," he told TechNewsWorld, "so Google has to make a case to users for why Maps should be used."
That said, some users might not need much persuasion to make the effort to use Google Maps. Apple has had to dig its mapping reputation out of a deep hole it dug for itself when its native Maps app first launched.
"Initially, Apple got very negative coverage for a lot of errors, but it's improved substantially since that time," Sterling recalled.
"Google built up its Maps database over years, and Apple tried to do it in a very compressed time frame," he said. "It didn't understand the scope of what it was trying to do."
Apple's efforts to improve have been spurred by a number of acquisitions the company made last year: WiFiSlam, an indoor mapping app; HopStop, a transit mapping app; Locationary, a location wiki; and Embark, another transit app.
Apple Maps still suffers from a stigma among some users, though.
"Google Maps is significantly better than Apple's performance," Josh Carr, founder of Rocky Mountain Mac Repair, told TechNewsWorld. "I've tried to use Apple Maps recently, and I would miss turns just because it was such a poorly written application."