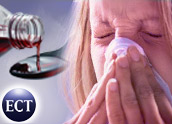 Google has announced the debut of Google Flu Trends, a tool designed to identify flu-outbreak patterns through an analysis of search data.
An early version of the technology deployed during the 2007-2008 flu season accurately estimated flu levels across nine regions in the U.S. as much as two weeks faster than reports from the Centers for Disease Control and Prevention, according to a Tuesday posting on the official Google blog.
Need For Speed
The speed boost reflects the differences between the CDC's data-collecting methodology and Google's near-instantaneous processing of search queries.
CDC depends on several data collection methods to build its reports.Details from doctors and state health departments assist in helpingCDC determine flu levels across the United States.
As for relative accuracy, a comparison of a Google.org graph showing the rise and fall of flu-related activity to measurements taken by the CDC dating back to 2004 shows the two as virtually the same.
With Google able to closely match the CDC findings ahead of the agency's current pace, it appears that an outbreak could be detected faster than the present best practices allow.
Life or Death?
Google's team looked at the "gold standard" of data — that being what the CDC gathers in its regular flu-tracking efforts, noted Glyn Caldwell, M.D., vice chairman of the department of epidemiology atthe University of Kentucky College of Public Health.
"The CDC process is cumbersome but accurate, and a little bit slower,"Caldwell told TechNewsWorld. "While Google Flu Trends isn't as precise, it does give you a good idea of what is going on."
Such a heads-up could potentially be lifesaving. Healthcare professionals could focus more on preventive care than emergency care, and possibly thwart an outbreak before it could become widespread.
Undifferentiated Queries
Despite the potential advantages of Google's search-query tracking, certain factors might affect the accuracy of Google Flu Trends, suggested Caldwell. The number of queries could include students working on reports, or multiple family members looking up symptoms on behalf of an ill person, as well as those actually suffering from the flu.
Still, Google's Flu Trends could encourage some early action in a community, perhaps prompting someone already affected by flu symptoms to seek a prescription for Tamiflu, Caldwell suggested. Those without symptoms might decide to get that flu shot they neglected before the start of flu season.
One observation of note is that Google Flu Trends shows a lower number of search queries later in an epidemic, Caldwell pointed out. Though curiosity about flu symptoms may waver, that doesn't necessarily mean the outbreak itself has diminished.
CDC's tracking will likely remain a more accurate measure of the flu's impact on a given community, he concluded.