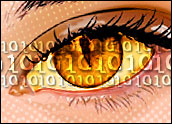 Reports that Google is working on special glasses that will stream information to a display in one lens in real time have once again surfaced.
The glasses will hit retail shelves by the end of the year, The New York Times reported.
They will be priced in about the same ballpark as new smartphones, meaning they'll likely fall into the US$250 to $600 price range.
The glasses will reportedly run on Android.
"The technology is not that far away for glasses that would even include enough processing [power] to support Android or other OSes," Paul Travers, founder, CEO and president of video eyeware maker Vuzix, told TechNewsWorld.
Google did not respond to our request for comment for this story.
Possible Details of the Google Glasses
The so-called Google Glasses will reportedly include a small screen that will sit very close to the wearer's eye.
They will apparently sport a 3G or 4G connection and several sensors, including a motion sensor and GPS.
The glasses will also reportedly have a low-resolution built-in camera that can overlay information about locations, surrounding buildings, and nearby friends.
Augmented reality technology will let the glasses tap into various Google products. The glasses will interact with data in the cloud.
Striving to Be First
Google's not alone in working on enhanced glasses. Vuzix has a $1 million contract from the Defense Advanced Research Projects Agency (DARPA) to develop prototype glasses of this sort.
At the Consumer Electronics Show in January, Vuzix also announced SMART Glasses, a line of sunglasses that would integrate HD displays and waveguide optics. The glasses will work with devices connected to the Internet and will be able to be used at night or outdoors in full daylight.
Microvision is another company working on mobile device eyewear. It's combining its ultraminiature PicoP display engine with special optics embedded into fashionable or protective eyeglasses.
Information originating in a mobile device will be beamed to the eyewear through a wired or wireless connection. The eyewear can either be see-through or opaque.
Going to the Cloud
Meanwhile, Vergence Labs is working on a prototype augmented reality glasses product that interfaces with a database in the cloud. This database will contain information from Facebook and Google+, as well as facial recognition software.
When a user looks at a friend, that friend's most recent status updates on both social networking sites will appear as a digital pop-up.
Japanese firm NEC Biglobe has developed a concept demo of cloud-enabled augmented reality glasses using the Vuzix STAR series of video eyewear that will work similarly to the Vergence Labs product.
Going Beyond Eyeglasses
Google might need to step on the gas if it's going to get consumer acceptance for its product. Wearable display maker Innovega announced contact lenses that let users screen augmented reality applications at CES 2012 in January.
It has developed technology that lets a wearer of one of its contact lenses see video content as if it's on a 240-inch TV screen 10 feet away.
"Normal video eyewear starts by looking like sunglasses and has tiny flat panels in the glasses, then you have to put lenses in front of those panels," Innovega's CEO, Steve Willey, told TechNewsWorld. "We take the panels … drop the lenses down to sub-millimeter size that let you drop them into a contact lens, and if you use Oakley glasses with Bluetooth or WiFi, you have media vision."
The Oakley Thump is a line of sunglasses incorporating an MP3 player with up to 1 GB of memory. It has been discontinued.
Innovega adds its technology to normal soft contact lenses that remain transparent so they can be used as regular contact lenses, Willey said. The media vision only comes on when the user puts on the Oakley-type glasses and they begin streaming information to the contact lenses.
Email and social media updates are streamed into a small window so the user can continue looking at the real world simultaneously, Willey said. However, "if you want to watch the movie 'Avatar' in 3D IMAX quality, then an app will drop that on a canvas and maybe block out the real world."
Prototypes for the consumer market will be available around the end of 2014, and Willey says the consumer versions will initially probably be offered at $500, with prices going down later.