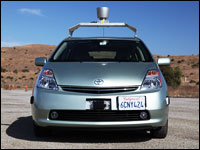 Snap divorces, slot machines and Elvis impersonators are so yesterday in Nevada — the state on Tuesday issued Google the first autonomous vehicle testing license in the United States.
Google can now officially take its driverless cars for a spin in the state.
However, the driverless vehicles will require one person behind the wheel and another riding shotgun in the front passenger seat.
"It's a safety mechanism to make sure there's always somebody who can take control behind the wheel and there's an additional person to watch the system," Bruce Breslow, the director of the Nevada Department of Motor Vehicles (DMV), told TechNewsWorld.
"Given the potential for problems or accidents this early in the autonomous vehicle game, it's probably wise [to have a second person monitor the equipment]," Charles King, principal analyst at Pund-IT, said. "It's analogous to airlines requiring a copilot."
All Dressed Up With Little to Do
Being the "driver" or the passenger of an autonomous car going on a test drive might be akin to being a member of the president's Secret Service detail — you always have to be on the alert for anything untoward occurring.
However, it's "probably no more stressful than being a passenger in a regular car," Pund-IT's King told TechNewsWorld. "Plus, given modern distractions, it could be a good deal less stressful than being in a car whose driver is chatting or texting on a phone."
And it's not like the driver and passenger will just sit staring out of the windows while the car proceeds. The autonomous vehicles Google will test "are regular cars with a special array of electronics, but you can always drive them manually," Breslow said.
The driver can take the car out of autonomous mode at any time by tapping the brakes, turning the steering wheel or hitting "a giant red button," Breslow said. A voice will announce that the car's switched into manual mode.
A Question of Safety
The goal of Nevada's autonomous driving program "is to avoid distracted driving and to improve the quality and safety of the driving experience," Breslow said.
"Considering how many people are injured or killed in vehicles annually, many of them driving while impaired or distracted, the idea of creating an automated mechanism for transportation has its merits," Pund-IT's King remarked.
More than 24,000 people died in motor vehicle traffic crashes in the United States in the first nine months of 2011, according to estimates from the U.S. National Highway Traffic Safety Administration.
Shocking as those figures are, they actually indicate a decline of about 1.6 percent over the same period in 2010. In fact, fatalities have declined steadily since the 2005 figure of more than 43,500. In 2010, there were nearly 33,000 fatalities, 24 percent fewer than in 2005.
Google's Long, Hard Driverless Road
Nevada has a "rigorous set of protocols" that govern applications for a license to test autonomous cars in the state, Nevada DMV's Breslow said. Applicants must prove the vehicle's been driven in autonomous mode for at least 10,000 miles. They also must convince the DMV that they have a safety program in place and that they have safety protocols, and that their drivers have been specially trained to handle an autonomous vehicle.
Google test drove its vehicles for 200,000 miles, mainly in California, and its drivers went through a rigorous training program before being allowed behind the wheel of an autonomous car, Breslow stated.
Further, applicants must meet the state's insurance requirements and post a bond. Google "had to provide a (US)$1 million surety bond," Breslow said.
Google reportedly has a test fleet of at least eight autonomous vehicles, including Toyota Priuses, an Audi and a Lexus RX450h hybrid crossover SUV. These have been equipped with a GPS, several sensors and artificial intelligence software.
Last year, Google was awarded U.S. Patent 8,078,349 for transitioning a car driven by humans into autonomous mode.
Google did not respond to our request for comment.