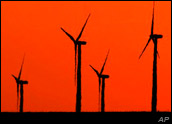 Google is investing in a backbone transmission infrastructure to deliver wind power generated off the mid-Atlantic coast of the United States to consumers in the region.
When built out, the Atlantic Wind Connection (AWC) backbone will stretch 350 miles off the coast from New Jersey to Virginia. It will connect ocean-based wind turbines that will generate 6,000 megawatts (MW) of power.
The backbone will be built around offshore power hubs that will collect the power from multiple offshore wind farms and deliver it through undersea cables to the land-based transmission system.
The project is led by independent transmission company Trans-Elect. It's financed by Good Energies, Marubeni and Google.
The move is part of a concerted thrust by the U.S. to generate renewable energy so as to reduce its dependence on foreign oil.
Earlier this month, U.S. Secretary of the Interior Ken Salazar signed the so-called Cape Wind lease, which is the United States' first lease for commercial wind energy development on the outer continental shelf.
Google's Involvement
Google will kick in 37.5 percent of the equity in the initial development stage of the AWC, wrote Rick Needham, the company's green-business operations director.
The next step will be to obtain all the necessary approvals for financing and begin constructing the line.
Google believes in investing in projects that make good business sense and further the development of renewable energy, Needham wrote.
"This is just another on a list of interesting projects Google is participating in," Rob Enderle, principal analyst at the Enderle Group, told TechNewsWorld. "It does have a high energy requirement, though, and advancements in green generation could eventually offset some of its energy costs."
Google runs several massive data centers in various parts of the U.S.
The company did not respond to requests for further comment by press time.
About the AWC
The AWC is a backbone proposed by Trans-Elect, which claims to be the first independent transmission company in North America. Trans-Elect owns the transmission assets of TransAlta in Alberta, Canada, and of Consumers Energy in Michigan.
The AWC project will reportedly cost US$5 billion and will deliver power to consumers in southern Virginia, Delaware and New Jersey.
The first phase will connect population and power transmission hubs in southern New Jersey and Delaware with undersea cables. It will cost $1.8 billion, and construction is scheduled to begin in 2013. The project is scheduled to transmit power by 2016.
Trans-Elect did not respond to requests for comment by press time.
The U.S. National Renewable Energy Laboratory (NERL) estimates that offshore winds can generate four times as much electricity as the nation's present electric capacity . Using wind power could give the U.S. 20 percent of its electricity by 2030, NERL estimates.