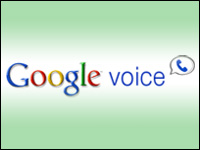 Three months after unveiling its Google Voice application, Google unveiled a limited public roll-out on Thursday.
The application's home site says the tool is available by invitation only. Anyone can sign up for an invitation, though they must then wait for a go-ahead from Google.
Google has added several features to the application since March.
It's not yet clear how Google will monetize the service, but there has been speculation that Google might sell ads.
The Limited Public Roll-Out
Asking for an invitation to participate in the limited roll-out is easy, though it appears one will have to wait on Google for an actual go-ahead.
"When you go to google.com/voice and click on the 'Get an Invite' link, you're added to the wait list," Google spokesperson Sara Jew-Lim told TechNewsWorld.
"We're going to gradually send out invitations to people on that list."
Invitations will be sent out on a first-come, first-served basis.
Where It All Began
Google Voice resulted from Google's acquisition of voice communications management company GrandCentral Communications in 2007.
The deal was reportedly worth US$95 million, but Jew-Lim would not confirm this. "We don't disclose the financial details of our deals," she said.
After adding some new features to GrandCentral's product, Google rolled out a preview of the result as Google Voice this March.
The upgrades are an ongoing process. Currently, the service offers tools for call transcription, SMS, conference calling, integration with the Goog411 directory service, and low-cost international calling. In April, Google added an archiving capability to Google Voice. In June, it released keyboard shortcuts and search operators for the service.
The service is free except for international calling, Jew-Lim said.
Things You Can Do With Google Voice
Google Voice is a VoIP (voice over Internet protocol) service that provides users one number for all calls and SMS messages; call screening; a listen-in feature that lets users listen before they take a call; call blocking; SMS; and free calls to anywhere in the U.S. It also lets users pick up calls on any of their phones.
In addition, it provides phone routing, letting users key ring tones to different callers, similar to the capability offered in most cell phones. Users can also add phones to the service and set which ones should ring.
Other capabilities include voicemail; voicemail transcripts; notifications; personalized greetings; conference calling; the ability to record calls; the ability to switch phones during a call; and checking directory assistance at Google 411.
Google 411 is similar to most telephone companies' directory assistance services except that Google's is free. Directions for use are available on the Google 411 Web site.
Users call 1-800-4664-411, state their location or type in a ZIP code, state the name or category of the business they are looking for, and they are automatically connected to the business.
Making Money
Though many Google services start out as free offerings, they all need to eventually learn to pull their own financial weight. For Google, that frequently means incorporating advertising.
"Google Voice could lead to location-based ad services," Yankee Group analyst Carl Howe told TechNewsWorld.
Location-based ad services are the holy grail for mobile phone operators, as they will be able to target consumers more exactly based on their precise location.
Directories are another possibility. "AT&T used to make a lot of money with directories," Howe said. "They may not release the information, but let you go through them to find someone."
Establishing a good directory is a database problem, which Google can easily solve, Howe said. "Google likes database problems; it's very good at these," he stated.
Another possibility is to have a two-tier system, as Google does with Google Apps, with the paid version being for corporate users, Howe said.
Can You Hear Me Now?
While advertising is a common route Google services take to pursue profitability, the strategy often goes hand-in-hand with concerns about user privacy.
Writing in Computerworld's "Seeing Through Windows" blog, Preston Gralla said the service will give Google "enormous amounts of information about the intimate details" of users' everyday lives. Combined with the information Google already has about its users, this could mean an end to privacy, he warned.
Underscoring his point, Gralla linked to a New York Times article in which Marc Rotenberg, executive director of the Electronic Privacy Information Center, said that Google Voice increases the profiling and tracking of users without safeguards.
Is there reason to be concerned that the company touting a policy of "Don't be evil" might be wiretapping one's personal phone conversations? For the time being, there's no basis for worry, according to Yankee Group's Howe .
"At the moment I don't see anything particularly nefarious going on with Google Voice right now," he said.